Alumnus' watch tests well with students
Jessica Hoffen, Executive Features Editor
October 26, 2012
Hang on for a minute...we're trying to find some more stories you might like.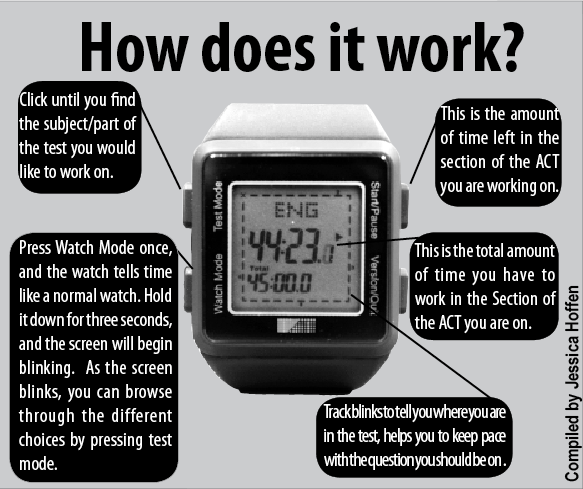 When Jordan Liss's grandfather passed away, he left Jordan his WWII dog tags, stories of the trials of entrepreneurship and a desire to be like him.
The '11 alumnus wears the dog tags every day, and Jordan, like his grandfather, founded his own company before the age of 25.  Jordan's company, Testing Timers, sells his inventions called aTesting Timers and sTesting Timers, which are watches programmed to pace students for the ACT and SAT, respectively.
The company officially launched this September, but the idea for it came years prior while Jordan was a junior at Glenbrook North.
According to his mother Karyn Liss, timing was Jordan's "biggest issue" while taking the ACT.
They searched for a watch, but found nothing that Jordan could use to easily pace himself.
"[After finding nothing suitable] I turned to my dad and go, 'Why is there no watch?' said Jordan. "He said, 'Why don't we make it, that's a great idea.'"
Jordan, however, did not start the project until his freshman year at New York University.
The first week of his season as a member of NYU's basketball team, Jordan broke his hand.  As a teammate, he remained at NYU over winter break despite being unable to practice, and it was then that he finally put his idea into action.
Jordan began by writing the programming of the watch and later started going through prototypes. With his father's help, Jordan hired a patent attorney and a designer, which he paid for from a savings account set up for him as child.
Jordan has had to handle problems ranging from a manufacturing error to having to buy out a patent due to its overlap with his idea.
"I didn't even tell people about [the company at first] because it was like everyday, 'Now what? Now what?'" Karyn Liss said.
Despite the challenges, Jordan has begun to partner with tutoring companies and to sell individual watches. He said he has received positive feedback from both students and companies.
This past summer Jordan attended a trade show in Miami where he met education and test prep professionals and presented on his Testing Timers. There he met Jim Giovannini, president of the Educational Industry Association and owner of Academic Tutoring Centers.
"My initial reaction to the watch was enthusiasm," said Giovannini. "I was thrilled that my students would have a device to accurately pace themselves on the ACT."
According to Jordan, it was really nice to hear that kind of positive feedback.
Junior Ethan Lutz heard about the watch through Jordan's brother Cameron. He purchased a test timer before taking the ACT in September and has been using it to prepare for further ACTs.
"I think it just makes it a lot simpler for the people taking the test because a lot of times when you are taking the test you have to look at the clock…and try to figure out where you're at and how you're pacing yourself and with this watch it kind of just does it for you," Lutz said.
Currently the product is being sold for $39.99 and the ACT version, aTest Timer, is available for purchase at (testingtimers.com), while the SAT version, sTest Timer, is in the midst of production.
Jordan hopes to one day take what he has learned from Testing Timers and move on to something even bigger. For now, though, he is focusing on growing the company.
Jordan said he wishes he could have shown his grandfather how much Testing Timers has accomplished.
"He is truly my hero," said Jordan. "I honestly believe that he's looked down on me through this journey, good and bad times, and that he is proud of me."