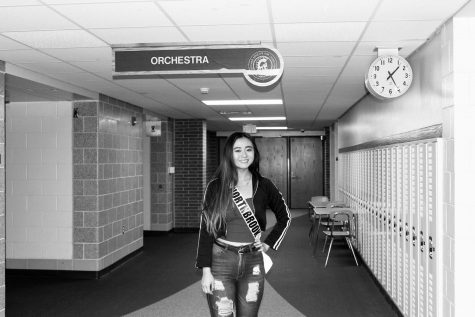 One mid-August morning at 9 a.m., senior Urie Han, half-awake, answered her phone. On the other line was a Miss Illinois Teen USA pageant representative who revealed that Urie was nominated to be a contestant in the Miss Illinois Teen USA pageant.
To the call, Urie responded, "No, I don't think so." 
Her short reply was due to the expensive pageant costs. After contemplating the benefits, such as having stories for her college applications, she decided to accept the offer. 
"I called her right back that day, and I was like, 'I'm gonna do it. Why not?'" Urie said.
Urie said she had spotted an advertisement for the "Miss Illinois Teen USA pageant"while scrolling through Instagram and decided to fill out the application for fun.It asked for her favorite books, extracurricular activities, community service experiences and a headshot.
Urie's brother, Richard Han, said Urie was always into clothing and fashion. He also noticed her passion regarding the pageant. 
Urie's mom, Myung Jin Han, said in an interview translated by Richard that she was excited Urie joined the pageant and was proud of her throughout the entire process. 
Without any prior pageant experience or a coach to guide her, Urie said she felt like she was thrown into the pageant setting without knowing about the pageant process or techniques, such as how to pose on a runway. 
"[The pageant] was …nerve-racking,"said Urie."The other girls were so much more prepared."
In preparation for the pageant, first runner-up Suliana Solano said she attended a workshop in mid-July that was run by the pageant sponsor, Vanbros and Associates Inc. At the event, she took notes on pageant tips and consulted with a nutritionist.
Despite Urie's nerves, she said overall the pageant was very enjoyable and she is considering competing in another pageant.
"[The experience] was really fun," said Urie. "[The pageant is] like a game …Once you pose, you have to look at all the judges [and] smile really big the entire time."
The pageant was held in Bloomington, Ill. over the first weekend of September and all the contestants arrived Aug. 31. That day, they checked in, took headshots and had rehearsals where they practiced the show order. Later that night was the first show and all 27 contestants participated.
In the first show, each contestant wore three outfits: an outfit of choice, an evening gown and athletic wear. For her outfit of choice, Urie wore a short, glittery black dress, and for the evening gown, she chose a red, floor-length dress.
The second show presented all 27 contestants wearing their outfits of choice again. After that, the top 13 were announced and then the five finalists. On-stage interviews were conducted for the five finalists, and the Miss Illinois Teen USA 2020 winner was announced. 
Urie said she did not know any of the contestants prior to the pageant, so she had to make conversation with many people to find a group of friends.
"You have to make friends really quickly," Urie said. 
According to Solano, she loved the social atmosphere because everyone was open to conversation. The contestants were very polite, especially backstage where they would help one another.
"For all the girls, each day, we got more comfortable with one another," Solano said.
Urie said she believes pageants can be for anyone.
"When you see pageants, you never think like, 'Oh, I could be on that stage,'" said Urie. "But then, anyone literally could."