Not what they APpear
Allie Gross, Kim Hill, Jessica Hoffen, Executive Opinions Editor, Copy Editor, Executive Features Editor
March 1, 2013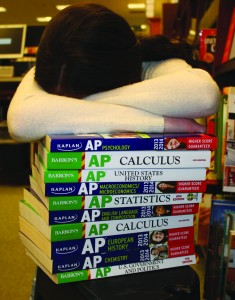 Curious about the validity of granting college credit to students for scores on Advanced Placement (AP) exams, Dartmouth College's Department of Psychology decided to give the Psychology 1 final exam to incoming freshman who scored a five on the AP Psychology exam.
The result? Ninety percent failed.
According to Dartmouth spokesman Justin Anderson, Dartmouth's committee on instruction had been discussing changing the school-wide AP policy for the past 10 years. In November, the committee made the final decision to no longer grant course credit for AP exams, sparking discussion regarding whether high school AP courses and exams equate to taking college-level courses.
"There was the belief that AP courses, while incredibly valuable as a means for high school students to demonstrate their understanding of a subject and also to show their preparedness for college level courses, simply were not a substitute for taking a class at Dartmouth," Anderson said.
Sarah Koulogeorge, '12 alumna and current Dartmouth College freshman, said she agrees with the decision because she believes the difficulty of classes at Dartmouth is not comparable to the high school classes she took.
"I took a European history class … first quarter [at Dartmouth] and it was significantly more difficult than my [AP European History] class sophomore year," said Koulogeorge. "There's not even a question about it. We covered basically the same amount of material in 10 weeks as opposed to the thirty weeks … in high school, and we had to write a thesis paper [at Dartmouth]. I mean hands down it was so much harder."
However, College Board spokesperson Deborah Davis said that research has shown that the AP program is comparable to introductory college-level courses in terms of "content, skills and learning outcomes."
"Any reports which claimed that AP standards are not college-level standards are simply untrue," Davis said.
According to Davis, "substantial research" has shown that students who placed out of the introductory level course due to their AP score did equally well or better in the intermediate level course than students who had taken the introductory level course first.
Glenbrook North currently offers a total of 19 AP courses. According to Kris Frandson, associate principal for curriculum and instruction, the AP courses offered are determined by department and teacher interest. Frandson said the school chooses to offer AP-level courses to provide students the opportunity to experience a "challenging, comprehensive [and] robust" curriculum and allow students who achieve appropriate scores to earn college credit to help with the steep cost of tuition.
Frandson said she thinks it is important to maintain the policy of offering both AP and honors level courses.
"I think the difference is that the honors classes allow teachers … a little more of an immediate ability to adjust the curriculum and be able to explore an idea that might have just recently developed," said Frandson. "I think in AP courses the curriculum content is structured by the College Board, so our instructors need to make sure that they're meeting the guidelines of the AP. … [Our AP instructors] may have some flexibility but it may not be to the level of the honors [instructors]."
History teacher Robert Gallivan transitioned from teaching honors U.S. History to AP U.S. History this year and said the change has required him to quicken the pace of his class. Gallivan also said despite misgivings about "teaching to a test" that he may have had when he began teaching, he now feels that with AP, the test "can be a good thing."
"I think as much as it's kind of a drag that there's this big giant test at the end of the year, some of the stuff that they're asking us to do is kind of awesome stuff," said Gallivan. "Like, I think the [Document Based Question] is an undeniably awesome academic task. You know, as much as it feels like, 'Oh, we're doing this for the test,' we are to one extent, but that's also a great thing to have to look at primary documents, to create a thesis statement. … That's stuff I would do whether it's a test or not."
Senior Laura Tutunikov has taken both honors and AP level courses throughout her time at GBN and is currently enrolled in five AP classes and honors Russian and plans on taking the AP Russian exam in the spring. Tutunikov said she thinks the AP courses offered at GBN are a bit more work than the honors courses. For her, choosing classes was a matter of choosing the most difficult courses available.
"I just like taking the most challenging courses and usually APs are [the most challenging]," said Tutunikov. She added that the potential college credit is an advantage.
Senior Dakota Karson is taking her first AP course this year. She agreed with Tutunikov, citing the more challenging curriculum as her reason for trying an AP, but does not know that this is true for the majority of her peers.
"I don't think many people in general take [AP] classes to learn, I think they take the class to get the credit and get the grade and get the score on the [AP] test," Karson said.
Karson added that she thinks AP courses move much faster than regular courses, and appreciates the opportunity to learn a college level course in a small classroom environment, as opposed to the large lecture hall setting typical of introductory level college courses.
The claim that APs are typically "the most challenging courses" is the reason why Dartmouth, despite its change in policy, still encourages students to take the classes. According to Anderson, the "rigor" of a student's course load will remain a standard Dartmouth uses to evaluate applicants, and added that the scores students receive on AP exams if they choose to take them, will continue to be considered as part of the application process.
John Halpin, Clinical Professor of Chemistry at New York University (NYU), said that while he sees the value of AP courses in preparing students for college courses, he does not think taking the exams is "useful" and would not recommend his own child do so for fear that he or she would try to then skip an introductory class.
At NYU, students who plan to pursue a pre-med track or to major in a chemistry-related field cannot place out of or receive any credit for chemistry classes regardless of whether they took the AP Chemistry exam. Halpin said that the chemistry department did not always have this policy, but that it was changed due to problems students had when NYU did accept credit.
"Back when we used to accept it and [students] moved directly on to Organic [Chemistry], often they didn't do well at all," said Halpin. "Partially because the University expectations are completely different from high school and they just weren't used to it. … Organic [Chemistry] professors, they're expecting students to already be used to [New York] University so they're not going to cut them slack … there was too sharp of a learning curve.

"Also, even students who took the AP and did well on it but took [General Chemistry], they often didn't do that well in [General Chemistry] because they felt [like], 'Well I've already had AP, I don't have to study for this,' and then suddenly they would find themselves halfway through the semester not having studied and way behind and unable to catch up because they really did need to study."
Halpin said one of the reasons he feels AP courses differ from college courses is the lack of student motivation and lack of connection between topics in high school courses.
"They cover them in the sense of, 'Here's the material, here's the kind of problems, here's how you solve these problems,'" said Halpin. "There's no drive to get the students to understand the material, there's certainly no drive to interconnect the topics so that students would recognize that there's a deep connection between say chapter three and chapter 10
, it's just a chapter by chapter list of topics with problems associated with each."
For Koulogeorge, whether her school's policy allowed her credit or a certain level placement never re
ally mattered.  She said that after getting into Dartmouth she had no motivation to try to do well on the AP exams and took them cold.
"I didn't care about the credit," said Koulogeorge. "I never cared about the credit. I took the classes because of my transcript."
Koulogeorge said she thought the APs were valuable because she does not think she would have gotten into Dartmouth without them and added that the cost of the tests were worth it because of that.
Frandson said she thinks that paying the $89 fee for the AP is worth potentially offsetting the cost of college tuition, and that GBN has a program that can provide resources for students who cannot afford the exams.
Frandson guessed at several possibilities for why there would be a trend toward universities refusing credit for the APs. She suggested that colleges may want more tuition from families by requiring students to enroll in more courses, and that the increasing number of AP students may be causing colleges to question the consistency of instruction across so many schools.
Davis said the College Board advocates that colleges create their own policies based on what they think is best for their students.
"We work in concert with faculty who design the exams and develop … core syllabi for the exams and score the exams to make sure that the standards of AP are equivalent to college level," said Davis. "But, you know, we don't foster one policy over another."