JUUL usage clouds GBN bathrooms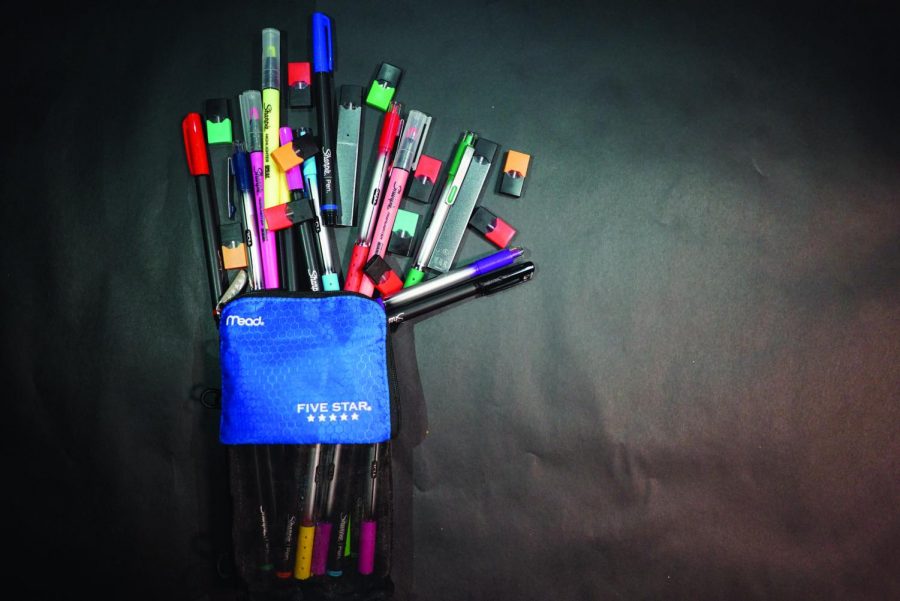 Jessica Katz and Sam Morgan, Executive Copy Editor and Copy Editor
November 2, 2018
The bathroom: a place at school where students can simultaneously escape a boring class and relieve their bladders. But for one junior, the traditional definition of a bathroom has been redefined. In a matter of minutes, a quiet stall can quickly turn into a crowded venue for vaping. He knew the perfect time of day and location for a JUUL break. He had yet to be caught using his JUUL until his usual strategy failed. 
"[A paraprofessional] walked in, confiscated my JUUL, and I got sent to the Dean's and got a Saturday [detention]," the junior said. Although this source was willing to identify himself on the record, Torch decided to maintain his anonymity to avoid establishing a permanent record of the conduct described.
Divya Ramamurthi, senior research associate at Stanford University, said in a phone interview that JUUL usage has become a growing trend. JUUL marketing attracts a younger demographic due to the company's initial use of social media advertising and the device's design. 
"It's this sleek device that's easy to hide," said Ramamurthi. "It looks like a USB. It's technologically friendly and savvy.
"If you look at JUUL's Instagram page, initially they used bright images and these youthful models. In the last two or three months, JUUL has really cut down on its social media presence, but … most kids already know about JUULs so [the company] doesn't need much marketing."
Edgar, Vortex Vapes and Smoke Shop employee, said although JUULs offer an alternative to regular smoking, the company's marketing is flawed, as it attracts teenagers instead of adult smokers. Edgar said he preferred not to share his last name for publication purposes.
"It's like trying to explain something to someone who's a little bit older and maybe not willing to listen," said Edgar. "[Adults] are like 'Oh no, I'll just keep smoking my cigarettes,' whereas someone young is like, 'What is that flash drive?'"
Senior Cecil Lay said he regularly sees students vaping when he goes to the bathroom.
"They're scared when you first come in because they think you're a teacher, and they're going to hide [their JUUL] if they think you are, but if you're just a kid, they don't care," said Lay. "[Students] just keep going back to it." 
Jeanette Jordan, associate dean of students, said the school is actively trying to stop vaping on campus. However, she believes students will continue to violate the code of conduct.
"In the opening of school, when [the deans] talked to the P.E. classes, we emphasized the policy," said Jordan. "We're checking bathrooms regularly, [and] we've searched backpacks. I don't think that the number of students who are vaping has gone down. I think that … students have become more aware that adults are looking for it."
According to the Glenbrook North Student-Parent Handbook, the first and second offense consequences for the possession or use of any tobacco or vape product includes a Saturday detention, a counseling session with the student and a phone call to the parents. For a third offense, the student may be assigned an out-of-school suspension for one day, the dean may conduct a conference with the student's parents and more extensive counseling would be scheduled. 
According to the junior caught vaping in the bathroom, the school cannot do anything to stop students from vaping because they will always find a way around the rules. 
"If you're trying to keep [using a JUUL in school] discreet, it's easy.
"We always find the best times of the day [to 'juul']," he said.