Tips for dyeing your hair without your hair dying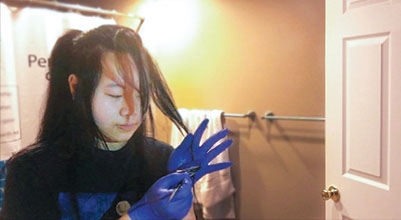 After seeing the "Narcissa Malfoy" hairstyle trend on TikTok, in which black hair falls on top of a white underlayer, junior Arin Yang knew she wanted to try that style.
"I was like, 'Yes, I have to do that,'" Yang said in a video conference.
Yang did not expect how difficult it would be to lighten her hair to that extent. The first time she bleached her hair, it turned orange.
"And I was like, 'You're kidding me,'" Yang said.
After attempting to lighten her hair two more times, Yang resorted to simply dyeing those strands purple.
While dyeing hair at home offers an opportunity to change one's look without going to a salon, doing so impulsively or without caring for the hair afterward could lead to unexpected colors or severe hair damage. Below are a few tips to consider before things get messy. 
To avoid uneven coloring:
Yang found that tying up her dyed hair before putting on a shower cap made the color uneven because the hair was being twisted around, said Yang. She now leaves her hair on her shoulders or gently puts her hair into a shower cap to process the dye instead. 
Kristen Inglot, hairstylist at Carolyn Lorraine Salon, said in a video conference that while it is not always 100 percent accurate that uneven coloring is a result of tying up dyed hair, hair dye needs oxygen to work because it changes the color of hair by oxidizing. 
"So if it's tied up really tightly, then [the color] might be uneven because the oxygen can't reach all the areas," Inglot said.
To maintain the color:
According to Inglot, those who have colored their hair should use color-safe shampoo and conditioner because the color will last longer. These products are usually labeled as "color-safe" on the bottle.
"If they [are not], they won't say anything," said Inglot. "So if you've colored your hair, it's better to get something that says specifically 'color-safe.'"
To preserve the health of your hair:
Sophomore Ella Barron said in a video conference that she tried to be as gentle with her hair as possible after dyeing it, especially after using bleach. 
"I avoid too much heat styling," said Barron. "I don't blow dry my hair, because it's already damaged." 
According to Inglot, she usually recommends using a heat protectant when heat styling as well as using a hair mask once a week. Because hair dyeing can make the hair drier, these masks help by putting some moisture back into the hair. 
Inglot would not recommend using masks for longer than necessary because the hair can get "over-proteinized" and that could "make your hair feel worse," said Inglot.
"So follow the instructions and do as the product says.
"The instructions are there for a reason," Inglot said.