Civics added as graduation requirement
Andreea Sabau, Staff Writer
April 21, 2017
Hang on for a minute...we're trying to find some more stories you might like.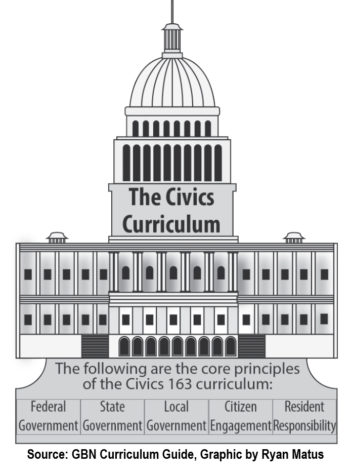 While 22 percent of Americans can name all five members of the Simpson family, just .1 percent can name the five freedoms guaranteed under the First Amendment, according to a survey conducted by the McCormick Tribune Freedom Museum in 2006.
Freshman Emma Sullivan can attest to Americans' ignorance toward the government.
"I've seen people talk about [their] opinions on the government without necessarily being totally educated on the topic," Sullivan said.
Illinois State Sen. Tom Cullerton said in a phone interview that this lack of knowledge is one of the reasons for the introduction of a new Civics class.
Civics is scheduled to be introduced in the 2017-2018 school year as a semester-long class that fulfills Illinois' requirements for civics education. The new mandate applies to current freshmen and all future Glenbrook North students.
The class is set to be open to sophomores, juniors and seniors as a regular-level course with no prerequisites.
According to social studies teacher Michael Greenstein, students in the class will focus on learning about the structures of local, state and federal governments. The election process, political parties and public policy will also be discussed.
Greenstein said Civics will count toward students' academic GPA as a regular-level class, and honors Civics will not be offered.
In addition to Civics, AP Government & Politics: United States is planned to satisfy Illinois' requirements for civics education as an option for seniors. A service-learning project, such as writing a letter to Congress, will be added to AP Government & Politics: United States to satisfy the civics education requirement, Greenstein said.
According to Academy Director Matthew Whipple, the Glenbrook Academy plans to incorporate the required topics into their social studies class.
Cullerton, who is the chief sponsor of the bill requiring civics education in the Illinois Senate, said he recognizes the anxiety around adding new classes to Illinois high schools, but he believes Civics is crucial for high school students because he has dealt with citizens who do not understand basic processes of the government, such as the structures of local, state and federal governments.
Social studies teacher Jeff Kallay said most students already take three or more years of social studies, so the mandate will change which social studies classes students decide to take the most.
"Let's say we have a [social studies] class [that] 25 kids sign up every year for," said Kallay. "If 10 of them say, 'I have to take Civics instead of this,' then that offering is probably going to be shelved until we get more interest."
Director of choirs Eric Skalinder said he has noticed students who drop out of choir often do so to make room for a required academic class.
"I wonder how long it will be before entire schedules are filled up with mandatory [classes]," Skalinder said.
Freshman Evie Kelly said she plans to take Civics and Urban Studies as her social studies classes next year, but she would have preferred to take Anthropology instead of Civics.
"It should be a student's choice whether they want to learn about the government and politics," said Kelly. "If a student … is uncomfortable talking about [politics], then no one should force them to speak their opinion."
Sullivan said she plans to take AP European History next year, and she is not worried about the requirement because she plans to take AP Government & Politics: United States her senior year. The rest of Sullivan's social studies class was not as receptive.
"My [History of World Civilizations] teacher was like, 'Hey, you guys have to take [Civics] as a requirement now, and you guys are the first ones,' and we all just groaned and were like, 'Oh, another thing to add,'" Sullivan said.
According to Greenstein, Civics will not be offered to students as a summer school course over the summer of 2017, although the class may be available to interested students the following summer.
Kallay said the timing of the course is unrelated to the 2016 election, but he believes the Civics class is more important now than ever due to America's  current political atmosphere.
"I think it's really helpful to have people really understand the specifics of how our government works because a lot of people get angry and emotional and don't really understand … what powers the president has," said Kallay. "These are things that may come up in a history class, but certainly will come up in Civics."
Sullivan said she believes learning about the government is crucial because of the role it plays in everyone's day-to-day lives.
"Government is something we're going to be hearing about for the rest of our lives and is something we're all constantly being affected by," said Sullivan. "It's important to know how it works in our country and community."