GBN holds its first Poetry Out Loud competition
Ben Jutzi, Executive Copy Editor
March 2, 2018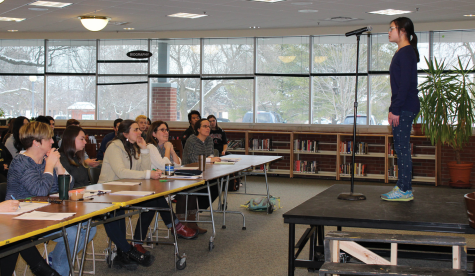 Stepping onto the stage, senior Jeremy Stein peered out across the rows of chairs. He approached the microphone and began reciting a childhood story: "Where the Wild Things Are," but with a twist.
"The night Max wore his wolf suit made him infamous, bred the child star never sent to bed," said Stein. "Middle school, Max started drinking."
Stein recited the story as part of Glenbrook North's first Poetry Out Loud competition, a national contest in which participants recite published poems. According to English teacher Kate Fester, English teachers had the option of holding a competition within their own classes. The procedure of class competitions was left to the discretion of the teacher, and the winner then had the option to compete against other class winners in a larger schoolwide competition.
For the larger contest, performances were assessed by a panel of four judges — English teacher Kerry Galson, science teacher Maureen McDonaugh, Amy Ticho, instructional assistant for English, and Karen Cunningham, instructional supervisor of English — based on physical presence, voice and articulation, evidence of understanding, overall performance and dramatic appropriateness. Head librarian Sherri Koeppen judged students' recitations for accuracy, and math teacher Penn Phillips tabulated scores for the competition.
Around 30 English classes participated in Poetry Out Loud at GBN, Fester said, despite the department being "behind the ball" on scheduling the competition, as they did not notify teachers about the contest until further into the school year. The department plans to hold the Poetry Out Loud competition again next year, and Fester hopes more teachers will have their classes participate.
"It would be a voluntary thing determined on teacher, class and time," said Fester. "But being able to start it at the beginning of the year, having it in our minds at the beginning of the year, would probably make it a lot easier to incorporate it."
After placing first among GBN students in the school competition, senior Kate Frieden represented GBN in the regional contest at the Poetry Foundation in Chicago on Feb. 21. Although she did not place high enough to advance to the next competition, Frieden said the atmosphere was "incredible."
"It was really encouraging to see people across the area who were just as excited to perform poems as I was because when you say, 'I'm going to perform poetry,' everyone's like, 'You're kind of a nerd, kind of dorky,'" said Frieden. "It gave me encouragement that it wasn't just me being 'weird.'"
Frieden's preparation helped her gain confidence and come to a deeper understanding of the poem, she said.
"My teacher … had us 'interview' the poem, which to me meant going through each part and deeply analyzing and figuring out how I could connect to the words," Frieden said.
Galson said she has been impressed by students' responses to Poetry Out Loud.
"It's so powerful to see kids do something that they haven't even thought of doing before.
"The most awesome thing I've seen is a … high level of student engagement in poetry," said Galson. "You know, students coming up to me and saying, 'Ms. Galson, what do you think this line really means?' That's an English teacher's dream come true."