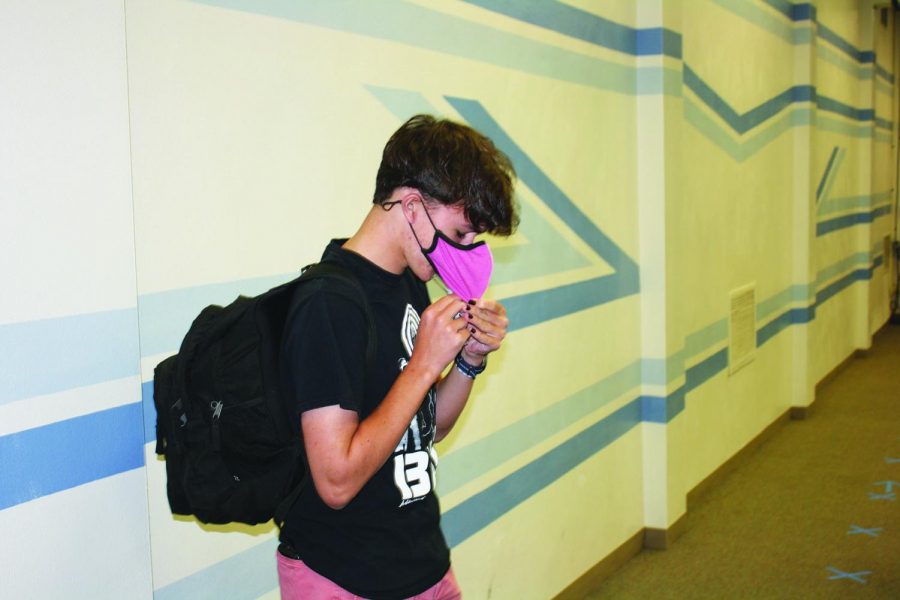 Although junior Henry Herr has been vaccinated against COVID-19 and is no longer required to get tested each week, he decided to continue doing so for the foreseeable future.
"I'm involved in marching band, and … when we're outside, we don't wear masks, and it's a lot of group activities, so I like to be conscious of that," Herr said.
The Glenbrook High School District #225 School Board of Education updated the Plan to Resume In-Person Learning to reflect guidance from the Illinois Department of Public Health, also known as IDPH, on Aug. 24. Under the plan, only students who are unvaccinated and participating in high-risk activities are required to submit weekly saliva tests. Vaccinated students participating in high-risk activities must submit a photo of their vaccination card to opt-out of weekly testing.
According to Lauren Bonner, associate principal for administrative services, students and staff who wish to be tested but are not required to still have the opportunity to do so.
"If you are somebody who is vaccinated, but you've become symptomatic … or you just would like this peace of mind to get tested, having SHIELD testing here on campus allows you to do that," Bonner said.
Developed by the University of Illinois System, the SHIELD Illinois saliva-based test is currently used to test students and staff in Glenbrook High School District #225.
A representative from IDPH said in an email correspondence that approximately 75 percent of Illinois K-12 schools have the option of receiving free access to SHIELD tests in the 2021-2022 school year.
"[We] had the ability to expand free testing to all K-12 schools outside of Chicago, thanks to additional funding from the federal CARES Act and American Rescue Plan," the representative said.
To be tested, the student or staff member fills a small tube with saliva. Then, a third party administrator from SHIELD Illinois scans the barcode and the student or staff member's ID, puts the tube into a bag and sends it to one of seven SHIELD laboratories throughout the state. Notification of a positive test result occurs within 24 hours.
"It's a little awkward but super easy," Herr said.
According to Bonner, the SHIELD testing program is more convenient than the tests used last school year.
"It's a lot easier to have an external organization come in," said Bonner. "There's no more need for our [athletic] trainers to prepare kits for students."
According to Herr, he decided to continue being tested to reduce the risk of spreading COVID-19 to others should he contract it.
"Because I'm vaccinated, I'm not as worried about myself, but I wouldn't want to pass it on to someone who's more at risk," Herr said.