Bowling hopes for history-making year
Lindsey Masterman and Danny Ogranovich, Executive Editor-at-Large and Page Editor
November 3, 2017
Hang on for a minute...we're trying to find some more stories you might like.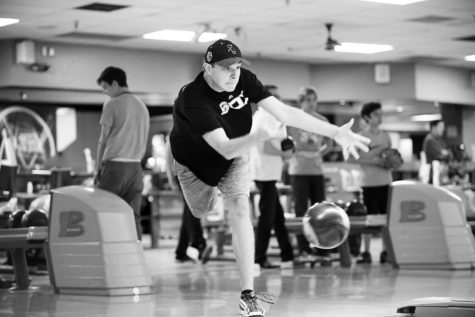 People hang from ladders behind the bowlers. Spectators peer through their binoculars as the athletes prepare to throw. Dozens of screaming parents and fans roar enthusiastically as the bowlers stare down a set of 10 pins. According to senior Jacob Rosenberg, a high school bowling tournament can be one of the rowdiest sporting events there are.
"The energy [at a tournament] is almost similar to a football game, which seems really weird to say about bowling," Rosenberg said.
Coming off a 31-5 record and qualifying for state for the 3rd time in five years, the boys bowling team is looking to improve this year with six returning All-Conference players. The team has attended the state tournament three times — in 2013, 2015 and 2017. The state meet is broken up into two days, and 12 teams qualify for the second day based on their performance on the first day, a feat Glenbrook North has failed to accomplish in its history.
"Now that we haven't really lost anyone, we're looking to make it to the second day of state and do something we've never done before," Rosenberg said.
Though the team did not make it to the second day last year, senior Jack Ulrich advanced as an individual bowler and placed 62nd out of 67 state bowlers, according to Todd Rubin, boys bowling head coach. Ulrich had the highest average point total on the team throughout the season, scoring 198 out of 300.
All of last year's top bowlers are expected to return, including Ulrich, Rosenberg, seniors Aaron Berkowitz and Brandyn Li and juniors Jared Kuper and Joey Arcangeletti. In the 2017 season, the team averaged 967 points a game, according to Rubin.
"If you are going to bowl around 1,000 then you're going to win most dual matches," said Rubin. "But, to really make those elite levels and make state, teams would really have to step up and bowl closer to 1,100."
According to Rosenberg, a team's score is determined by adding the individual scores of five players, who play on the same lane. He said having your teammates around you serves as an extra tool for players to perform at their best.
"Everyone's very individualized and focused on their own games, but at the same time if another guy is struggling on the team, [we] are there to aid [him] and help critique [him]," Rosenberg said.
According to Berkowitz, advice to struggling bowlers could include standing a few boards to the left or right or throwing the ball in a different part of the lane where there is more or less oil. A bowling lane has more oil on the inside of the lane than the outside, causing the ball to spin towards the middle of the lane if it is thrown closer to the gutter.
Rosenberg said bowling can be very mentally exhausting.
"When the tournaments are nine hours, it's a long day, so you sort of need to get yourself in the mindset of staying focused," Rosenberg said.
To keep his focus throughout a tournament, Berkowitz said he goes through a ritual before each bowl.
"I put my hand over the air vent," said Berkowitz. "I kind of think for a second, and then I bend my knees, … and then I go."
According to Rosenberg, the team bonded last year at the state meet by playing video games. Before each match, the players played various Wii games including Wii Bowling, which the team was worse at than regular bowling.
According to Rubin, an upbeat dynamic played into the team's success last year and will hopefully continue this season.
"I give the current seniors a lot of credit for our success last year," said Rubin. "Everyone thought [last year] would be an off-year, but they all collectively improved. It was only a little for each person, but 15 pins here or 15 pins there eventually [puts] you at that state level."
Rubin said he is looking forward to the process of the season as a whole.
"I'm not going to [say] to the team that if we somehow don't make it to the second day of state, we haven't had a successful year," said Rubin. "I think it's really about that individualized learning. … I want each guy to really understand their game. Everyone on the team needs to understand that they control their fate."