Boys volleyball bumps off early losses
Joey Harris, Page Editor
April 20, 2018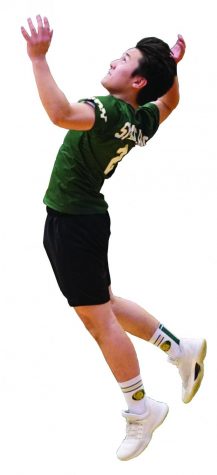 A spike was fired down hard over the net by Addison Trail's setter and the volleyball was quickly heading for the ground, but senior Matthew Zhang was not going to give up the point as he dove to recover it. As he hit the floor, he passed the ball with an outstretched arm to junior Daniel Lee, who set sophomore Ethan Brodell for a spike where he slammed the ball right back where it came from.
The Spartans would end up losing that match and going 2-3 during the Tiger Classic, a tournament at Wheaton Warrenville South, but Chris Cooper, boys volleyball head coach, said he was optimistic based on the potential he saw.
"There were a lot of times where we got into a rhythm where we were able to pass and set just about any one of our hitters," said Cooper. "When we're able to do that [it is] hard to defend us."
As of April 16, the team has a record of 6-3 and is 2-0 in conference games. Zhang leads the team with 80 digs, and senior Jack Ferber leads the team with 66 kills.
Ferber said despite the shaky start, the tournament gave the team a better understanding of areas where they need to improve, which they began doing the following practice.
"We had practice for like two and a half hours, and that was a really good practice," said Ferber. "We spent it on ball control, team defense and a lot of serving."
According to Cooper, both Ferber and Zhang have stepped up as leaders this year.
"The younger guys tend to watch them and see how they practice and how they react to situations," Cooper said.
Zhang said he would never have expected to be a leader on the volleyball team before high school because he was cut from the team each year in middle school. After another disappointing tryout in eighth grade, he decided to be the team manager and joined a club team to improve. After a year, Zhang was on the top team for his club and made the freshman A team at Glenbrook North.
According to Zhang, one of the things that developed his game was regularly hitting the ball around his house, leading to to a few unlucky glasses and picture frames.
"It seems so simple and really basic, but it's definitely been instrumental to my success," Zhang said.
According to Ferber, much of his motivation for this season comes from last year's loss to New Trier in the sectional finals. The teams split the first two sets before GBN dropped the third 25-16.
"A float serve [came] over from their libero [and I took] the ball too low [and couldn't] get it to our setter, [I] end the game [and] end the season," Ferber said.
Zhang said he was especially upset by the loss.
"I have a New Trier water bottle that one of my friends from club [volleyball] gave me, and I took it out to Wescott Park with a baseball bat and tossed it up in the air and smashed it until it broke," Zhang said.
Ferber said both he and Zhang worked on their jumping mechanics and flexibility with Alumnus Cody Bolan ('13) at 8 a.m. several times throughout the summer. Ferber said those workouts along with guidance from trainers in the Fitness Center helped him physically prepare for the season, despite not playing club.
"On the first day of tryouts, we do [vertical jump] testing, and I touched a lot higher than I usually do," Ferber said.
Cooper said he is encouraged by how the new players are adapting to varsity practices, but wants to see the team be a more cohesive unit.
"It's not a question of whether they're good volleyball players," said Cooper. "It's whether they can play well together and how quickly they can catch up to the pace of playing some of the good teams we'll be playing."
Brodell said one way he has seen the seniors bring the team together is by organizing a breakfast at Georgie V's after a Saturday morning practice.
"[At breakfast] we did a phone stack," said Brodell. "It surprised me because [the seniors are] truly dedicated to getting to know each other and to being actual friends and not just teammates."
Cooper said he expects the success from this team to be similar to last year's.
"We still feel like we should win conference and expect to make it to the sectional finals," Cooper said.
According to Ferber, the team will be playing with a chip on their shoulder.
"We founded our saying of the season which is … 'make a case for state.'
"People write us off, so we're making a case [for] why we deserve to be there and why we deserve to go to state," Ferber said.