Purdy makes waves at state
Peter Bazianos, Staff Writer
April 18, 2019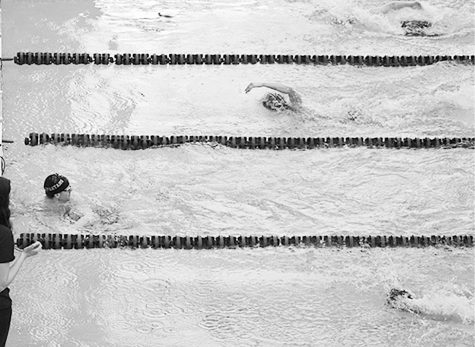 He is Glenbrook North's only boys swimming state champion in two events, the holder of four individual school records and a member of two school record-breaking relay teams, but senior Ryan Purdy is not done yet.
In November 2018, Purdy signed his letter of intent to swim for the University of Iowa. Since then, Purdy has become a conference, sectional and state champion in not one, but two events.
At the IHSA Boys Swimming and Diving Championship in February 2019, Purdy won the 100 Yard Backstroke with a time of 48.92 seconds and the 200 Yard IM with a time of 1:49.44.
"It was just super exciting, looking up at the scoreboard and [seeing] the first place next to your name," Purdy said.
Next year, Purdy will continue his career with Marc Long, head coach for the University of Iowa swimming and diving team.
In a phone interview, Long said he followed Purdy closely at the state championship and his performance made Long very excited about Purdy's abilities.
"Ryan is really just breaking out now," Long said.
Purdy was recruited by and committed to Iowa even before the GBN team had its first competition of the 2018-2019 season.
Long said that, as a recruit, Purdy has showed enthusiasm for the sport, dedication and motivation to compete. Now, Purdy has added "state champion in two events" to his resume.
"We're just thrilled to have him," Long said.
Purdy is not the first in his family to commit to the University of Iowa. His father, Assistant Athletic Director Matt Purdy, played football for Iowa and served as a captain of the team during the 1995 season.
Like his father, Ryan Purdy was an accomplished football player. He played GBN football for three years and was named to the All-Conference team as a junior. Despite this achievement, Purdy chose to not play football his senior year in order to focus on swimming.
"[The decision to stop playing football] dialed me in.
"It kind of flipped a little switch in my head, where I knew that I could take my swimming to the next level, and that's what it did," Purdy said.
Jarod Schroeder, head boys swim coach at GBN, was Purdy's primary coach for the 2018-2019 season. As the former men's head swim coach at Northwestern University, Schroeder has experience with Big Ten Division I swimmers and said he thinks Purdy will embrace the challenges of collegiate swimming.
"I have no doubt in my mind that he's going to be successful and make an impact at Iowa," Schroeder said in a phone interview.
According to Schroeder, Purdy set himself apart by always looking for ways to improve, and his recent times reflect that improvement. Not only did Purdy set three school records at the state championship, he also set personal records in both of his individual events and both of his relay events.
"He's still hungry," said Schroeder. "It doesn't matter that he won two state titles. He wants to be even faster, and he's got higher goals."
He has been swimming competitively since he was five years old, but Purdy believes his swimming career is far from finished.
"I haven't scratched my potential yet," Purdy said."