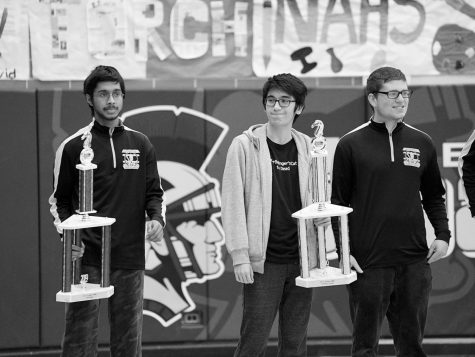 When senior Siva Muthupalaniappan joined the Glenbrook North chess team as a sophomore, he was an outlier on a team comprised of seniors. Little did he know, two years later, he would tie for first place at the 2019 National Scholastic K-12 Grade Championship. 
"It sounds weird for me to say this, but I didn't have as much of a reaction when I realized I would win," said Muthupalaniappan. "What I really had a reaction to was our team winning. I spent most of the time watching my teammates play because that's what really mattered to me."
Muthupalaniappan said he has played first board since junior year after moving up from playing fifth board sophomore year. A player's board position represents their ranking on the team and the more highly ranked players' scores weigh more heavily at meets. 
According to Muthupalaniappan, his parents introduced him to chess as a child so he could play for fun, but he had to develop his skills when he joined the team.
"[Developing strategies] was really a lot about teammates," said Muthupalaniappan. "Sophomore year there was a bunch of seniors who had been playing the game since their freshman year so they had so much experience so just talking to them and having them teach me a bunch of stuff really helped me improve."
Chess coach Michael Campbell said Muthupalaniappan practices by playing chess online daily and shows extraordinary resilience during his matches. On the day of the national championship, Muthupalaniappan was receiving college decision letters.
"He knows he wants to check [the decisions], but he knows he has a chess match, and [he showed] the mental toughness to be able to isolate himself for four hours when he knew there was an acceptance or decline in his email," Campbell said. 
According to Campbell, Muthupalaniappan is a role model for his teammates by always teaching them how to find the better move rather than just playing the fastest game. 
Junior Jeremy Livshots said Muthupalaniappan assists his teammates by reviewing notes and analyzing moves with players after their games. 
"In other sports you watch game footage, but …  with chess it's an open book game," said Livshots. "You can't hide anything from your opponent. Everything is on the board in front of you. [Muthupalaniappan is] really good about talking through the ideas of the game with you, showing you what he would've done and asking you why you did certain things."
According to Muthupalaniappan, the team practices every other Friday in the MRC. He appreciates the freedom Campbell gives the team during practices by leaving them unstructured, trusting the team to help each other improve.
Muthupalaniappan said the team dynamic he has experienced through chess has separated it from other activities he has been involved in, like participating in the math team where competitions usually entail taking tests individually.
"Meeting a bunch of people from different schools … even different parts of the world … through chess has really impacted my worldview in general because I see a bunch of diverse people with different views, and I get to talk to them on a regular basis," said Muthupalaniappan. "The problem [-solving] skills you get from chess … have helped prepare me for my future."