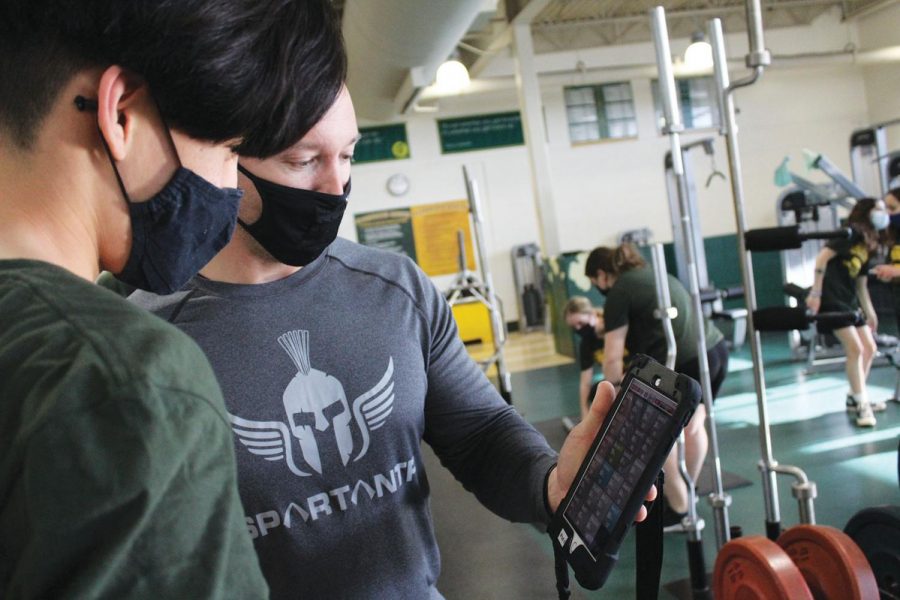 As they entered the fitness center, students in P.E. teacher Sean Brandt's Introduction to Strength Training class turned on their heart rate monitors, allowing Brandt to track their heart rates on an iPad during the class's workout.
The use of heart rate monitors is meant to teach students how cardiovascular training can help with performance and health, Paul Gibbs, P.E. teacher and fitness center coordinator, said.
"It's not there to say, 'Oh, we've got you, we've caught you, we know you're not working hard enough,'" Gibbs said.
Information including the number of calories students burn and their current, average and maximum heart rate may be displayed on an iPad or projector screen during class.
Students will eventually be able to create profiles and log into a website to see their heart rate information, Brandt said.
Bob Pieper, instructional supervisor for the Physical Education, Health and Driver Education Department, said in an email correspondence that all P.E. classes are planning to use the heart rate monitors, which were purchased by Glenbrook High School District #225. 
In past school years, some P.E. classes occasionally used heart rate monitors that were over 15 years old, and there were not enough for every class to use, Pieper said.
Students are required to purchase a strap that the heart rate monitor snaps into. Straps are available for purchase in the bookstore for $12.50.
The use of heart rate monitors in P.E. classes is meant to personalize workouts for students, P.E. teacher Reneé Brosnan said.
"Everyone has different fitness levels, and I think that the heart rate monitors will help gear you towards your own fitness level so you don't have to go off somebody else's," Brosnan said.
According to sophomore Lucas Dubinsky, a student in Brandt's Introduction to Strength Training class, the heart rate monitors are "a good tool to monitor our physical health. 
"They're not helping me actually work out, but I feel they're helping show how hard I'm working and if I need to work harder," Dubinsky said.
Dr. Stephen Neuberger, pediatric cardiologist at Advocate Children's Heart Institute, said in a phone interview that during a workout, people reach their anaerobic threshold, which is when oxygen is no longer used for their body's processes. By using a heart rate monitor, people can know what their anaerobic threshold is, which can be helpful for interval training.
"It helps [you] train in a way that you don't have to guess.
"If you want to increase the amount of exercise that you can do and really improve yourself, [a] heart monitor is the way to go," Neuberger said.
Dr. Leslie Brookfield, director of the Heart Station at Advocate Lutheran General Hospital and adult cardiologist, said in a phone interview that heart rate monitors can show if students are overdoing it during their workouts.
"You get a more accurate idea about how hard you have to work to achieve the goals that you want," Brookfield said.
According to Brosnan, she has always wanted to use heart rate monitors with students of all grade levels.
"I think it's important for students to understand how to challenge themselves or to push themselves," said Brosnan. "A lot of times, I think students push themselves and then they stop, … but I think that they don't realize how much more they can go."