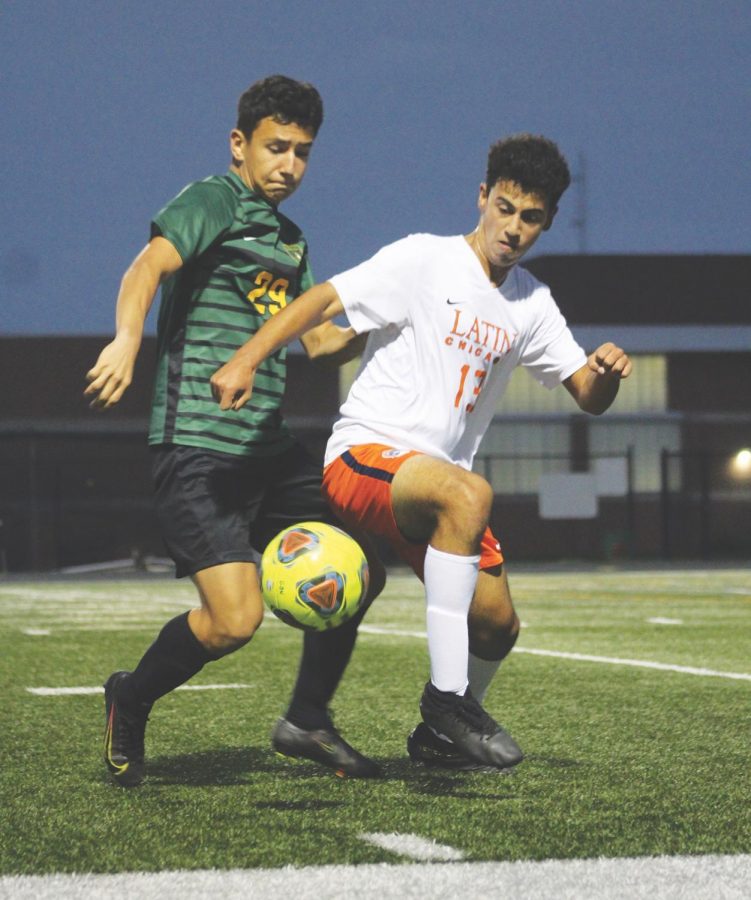 Down 1-0 to St. Patrick in their regional semifinal game, the boys varsity soccer team drew a much-needed penalty kick with just over 30 minutes remaining. The powerful strike, however, was blocked by St. Patrick's goalkeeper, who dove to stop yet another Spartan goal-scoring opportunity.
"A few minutes later, the Thor Guard went off, so we all had to go to the fieldhouse for 30 minutes," said senior Devin Spiggos. "We were there [saying], 'Shoot, we have 23 more minutes to change our season or it's done.'"
After a half-hour delay, the lightning passed, and the players returned to the field. About 10 minutes after resuming the game, St. Patrick scored their second goal off of a rebounded save. Time continued to tick down on the clock, and the game ended in a 2-0 loss on Oct. 20, knocking Glenbrook North out of the playoffs.
Most players on the field and on the bench began crying during the last few seconds of the game because their season and, for some, their soccer careers were over, Spiggos said.
"I cried, a lot more people cried," said Spiggos. "It was just emotional at the time."
The team finished with a record of 12-5-5, including a 2-1 win on Sept. 28 against Evanston Township, who at the time was ranked ninth in Illinois. This victory was the last conference game of the season, boosting the team into a second place conference finish.
According to Paul Vignocchi, who retired after this season from his position of 18 years as head boys varsity soccer coach, the team had a rough start to the season during the Barrington Invitational, ending with a record of 1-2-1.
"We played in a really tough tournament at the beginning of the year, which [was] a really good test for us," Vignocchi said.
The last game of the Barrington Invitational against Conant was a defining moment in the season because, although the lineup was changed and usual starters did not start, the team scored early goals and won the game, Vignocchi said.
"I've said it from the beginning of the season, we're a really deep team," said Vignocchi. "We have a lot of players that come off the bench and play and contribute to this team."
According to senior Jakub Murzyn, when there were substitutions in games this season, the level of play did not change because the skill level between starters and non-starters was similar.
"I think that this year is special because we don't have a huge drop-off when it comes to starters versus the people coming off the bench.
"If we need one player to step off for a second [we] got another one stepping in," Murzyn said.
According to Spiggos, after the team's post-game talk following the regional semifinal loss, many players returned to the field one last time.
"I laid down where my last in-game step [was]," said Spiggos. "We were all reflecting on the game, on the season."