Student performs at sandwich shop
Matthew Chupack, Features Editor
September 28, 2018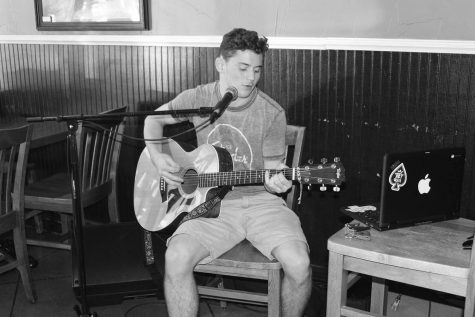 Even as a toddler, junior Quinn Cassell took an interest in music through unconventional household items.
"Before Quinn could talk, he used to walk around the house and sit down in front of the cold air return grates, … and he would strum them," said Quinn's father Mark Cassell in a phone interview. "Then in the kitchen he found a small wire cooling rack, which he would carry around with him around the house and would strum it like it was a guitar."
However, Quinn's interest in music escalated when he learned to play guitar. 
"I started playing guitar at nine, and then I kind of just picked up instruments as I went," Quinn said.
According to Quinn, he had to practice playing guitar for many years before he was able to experiment with more sounds.
"At the beginning, it's a lot of practice," said Quinn. "You have to get to a point where you are happy with what you do, and I think once you get there, you can kind of now do what I do, which is just go [to my studio] downstairs and mess around for two hours, and then be done."
Although Quinn always had a passion for music, his family helped foster his interest.
"My parents … are not musical, but [are] very encouraging," said Quinn. "I always show them anything I'm working on. They listen to it, and they enjoy it, and I think just being able to have that, where you see someone else happy about something you've done, that's the biggest thing you could get from someone."
Quinn's father said he has supported Quinn by building a practice studio.
"We built a studio for him in the basement where he has all his instruments," said his father. "He'll write and record and mix and produce songs that he has been working on."  
Aside from playing guitar at home, Quinn also performs at Potbelly Sandwich Shop in Highland Park. He uses this opportunity to work on his vocals, guitar playing and different music styles.
"I saw people playing at Potbelly probably two, three years ago, and that was genuinely when I wanted to go after and try that," Quinn said.
Sydney Anderson, general manager at Potbelly in Highland Park, said in a phone interview that Quinn's performances contribute to the lively atmosphere at Potbelly.
"He's just pretty loved, good enough where he had customers coming back and asking, 'Hey, he's really good. When is he playing again?'" said Anderson. "Several customers, everytime he is playing, will go up and either try to give us money to give to [Quinn], … or ask for change so that their kids can go up and give him a tip. The kids love hearing him play."
Quinn's performances are not only enjoyed by customers, but employees as well. Anderson said
Quinn is one of the best local musicians he has seen around lately.
"[Playing at Potbelly] is an awesome experience. 
"It's fun to watch people come in," said Quinn. "There's so many different people who come in. There's some people you see every week, but it's cool to be able to watch people watch you."