Senior develops passion for photography
Grace Chatas, Editor-in-Chief
March 1, 2019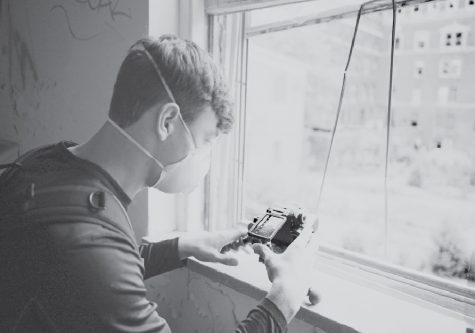 As the sun rose, senior Cam Casey stood with his camera in hand, surrounded by shreds of furniture and freshly sprayed graffiti, ready to document his latest adventure on Instagram — exploring an abandoned hospital.
"It was pretty cool to see the remnants of the hospital and be able to see each individual room," said Casey. "You're just walking through it, and the walls are ripped up, and the carpet is all over the place, and it's all dusty. But it's a fun thing to be able to check out, and not a lot of people see that sort of thing.
  "If I take pictures and share it, more people see it without actually having to go there."
Casey's Instagram account, which features photos from his expeditions, has gained over 12,100 followers as of Feb. 25. According to Casey, his social media presence has enabled him to make connections with other photographers and gain access to unique shooting locations.
"The coolest place I've probably been to is [an abandoned] mall," said Casey. "It was in Milwaukee. It was a full shopping mall with stores and escalators. It was like Northbrook Court but completely empty and graffitied. That was really cool, just to be able to imagine being able to do whatever you want in an empty mall."
During a photo shoot in Chicago with Casey, sophomore Luke Henry said they snuck into a residential building to capture views of the city.
"It wasn't illegal or anything, but … we were going up onto this one balcony area, and we were taking shots," said Henry. "A security guard walked up to us, and we had to make up this whole elaborate [story] about how our cousin John is a couple floors down, and we're meeting up with him, but our phones are dead."
According to Henry, going on various photo outings with Casey has helped him improve his own photography. Casey can be credited with most of the research that goes into finding their shooting locations and figuring out how to snap the perfect picture.
"There was this [abandoned] bank that we went to that had this massive open chamber with sunlight streaming through, and it was really cool," Henry said.
"Cam's certainly got a knack for [photography]. … He will get shots that no one else would think to get, and … they always turn out to be these incredible, mind-bending pictures."
  Although his Instagram account features mainly architectural and cityscape photography, Casey said he has been paid to shoot YouTube tours, promotional events for companies, weddings, engagements and gender reveals. He plans to attend film school and pursue freelance work in the future.
Henry said, "Some people are dedicated to something, [but] how talented they are is questionable. Cam's … got the eye for it. I think he can make it. If there's anyone who's going to be able to make it, I'd say it's Cam Casey."