Behind the scenes with Comedy Sportz
Sophie Sperber, Ellie Pazol, Managing Editor, Executive Features Editor
December 13, 2019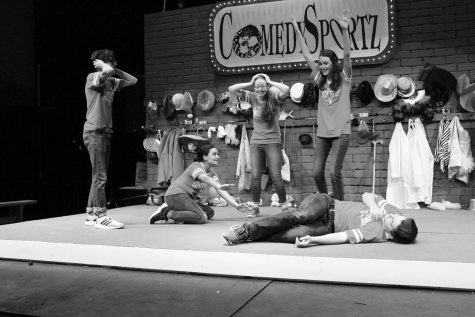 Standing with her arms pointed straight to the ceiling, senior Caroline Lee was "The Hair That Would Not Curl." Her teammates kneeled next to her swaying and twisting their arms, representing the kind of curly hair Lee's character so desperately wanted to be. This scene exemplified an average day at Comedy Sportz rehearsal.
Comedy Sportz is an improv show in which two teams, consisting of five members each, are pitted against each other. Each team comes up with a team name and players also come up with their own Comedy Sportz nickname. They compete in a series of different games for points, awarded by the magnitude of the audience's applause, and the team with the most points at the end of the game wins.
Comedy Sportz takes place every three years, and this year's show took place Nov. 20 through Nov. 23. Torch writers attended rehearsals and performances to see how the actors prepared for a show in which they were completely unaware of their roles beforehand. The shows were similar to rehearsals in how they were run as the teams cycled through games, yet no two rehearsals or performances were the same as each scene was based on suggestions from the audience, creating a different experience for viewers each night.
For the first few rehearsals, director and referee Jake "There is No Time Like the" Prizant, focused on teaching the cast members different Comedy Sportz games. Prizant would explain the game, a team would try it and then he would give them feedback. Yet unlike other shows, when the cast members made a mistake they would not go back into the scene and fix it. Rather, they would take the advice and apply it to another scene or game.
Senior Courtney "Chicken bake-a" Mazeika said non-improv shows are harder because of the need for memorization, whereas in Comedy Sportz players have to think on their feet.
"You need to be diverse with what you are doing and [be] able to play multiple different characters," Maizeka said.
According to Prizant, in other types of shows, actors practice doing the same scenes repeatedly.
"What is cool about rehearsingfor Comedy Sportz is you're just giving [the actors] a lot of different scenarios so that hopefully when they get up and [perform] for real, they have that muscle memory of like, 'I know what this feels like,'" Prizant said.
After learning all the games, cast members had opportunities to practice them and experiment with their acting. The cast played different games such as "Changing Styles" and "Elimination" to work on their skills.
During "Changing Styles," the actors had to set up a scene and redo the scene in various styles like Murder Mystery, Musical and Western, which required them to play one character in multiple ways. In "Elimination," they had to set up a scene and the referee kicked out players one by one until there was only one person doing the entire scene, causing the actors to play multiple characters at once.
During the show, the elements of the practice came to life. The players had more energy during the show due to the cheers of the crowd, seemingly giving the players more confidence as they navigated the games.
Prizant said the best part of directing is watching people get huge laughs from the audience when the players do not realize what they said was so funny. During a game of "Grand Theft Auto," the cast members had to pretend to steal each others' cars.
"[Freshman] Lilah Townsley … goes, 'Wait, am I allowed to drive the car? I'm only 14,''' said Prizant. "It made me laugh really hard because it is an imaginary car, but she was so concerned because she didn't have her license yet."
According to Prizant, part of what makes Comedy Sportz so exciting is that it is more about mental preparation rather than physical preparation, as the actors will never feel they are 100 percent ready for the shows.
  "I've been doing this for a long time and I never feel like, 'Oh, I'm great at improv now,'" said Prizant. "It is about continually learning."