Freshmen press play on DJ startup
DJ and emcee duo entertain multiple audiences
Sarah Boeke, Caitlyn Lofland, Opinions Editor, Features Editor
February 14, 2020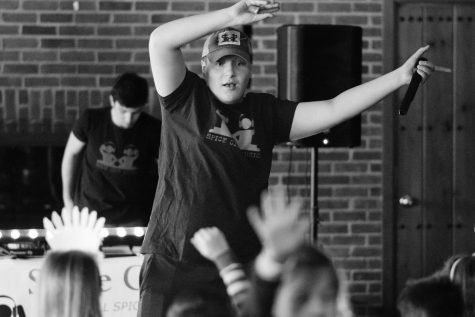 With the cars cleared out, a disco ball spinning and the music queued, freshmen Ryan Kreiter and Adam Shaw began their first DJ gig in an empty garage. They did not know it yet, but this would be the beginning of their entertainment career together.
"It was the Halloween of 2015," said Kreiter. "My parents had a Halloween party. [Shaw] loves music, and I love being on a microphone, so we said, 'What if we played a little music in my garage?'"
Over the following five years, the pair continued to grow their passion into a business, now called Spice City Music. They mostly do events for schools, block parties, birthday parties and fundraisers, and currently have events scheduled through the end of 2020 and into 2021. Kreiter said they now charge $110 per hour, which includes an emcee and DJ, two dancers, prizes and all other equipment.
According to Shaw, Spice City Music focuses on improving the customer experience by creating a low-stress process for its clients, asking them for their preferences for the event. The two freshmen take care of the rest.
According to Kreiter, Spice City Music always brings prizes, lights, games and fun.
Kreiter and Shaw aim to have the same level of professionalism as the DJs who often perform at bar and bat mitzvahs and have worked towards this by improving their individual talents, said Kreiter. He began taking dance classes to build a foundation of dance moves to use at events and Shaw enrolled in DJ lessons to learn the basics of using DJ equipment.
"Knowing how to use the buttons and what this thing does, that's really easy," said Shaw. "But learning how to read the crowd and do different things based on that, that's just experience. You can't teach that."
According to Kreiter, their first three official gigs were for KidCare, a before and after school program, at three local grade schools. At these events, they learned the most effective way to improve their business was through trial and error.
"You can't practice it, you just have to dive right in," said Kreiter. "It was going to a gig and learning what works, what doesn't work. That's how I succeeded. That's how [Shaw] succeeded."
Shaw and Kreiter agreed they could not have gotten their business up and running without their parents' help.
"His mom is named Julie and my mom is named Julie — they're our 'momagers,'" said Kreiter. "We're a lot more independent now than we were before, but we can't do it without the moms."
Shaw's mother said in a phone interview that she is very proud of both of them for how far they have come with their business.
Kreiter said his and Shaw's parents helped get them started by buying them the basic equipment, but now they have made enough profit to buy more advanced equipment by themselves.
"They started at age 10," said Shaw's mother. "They had the maturity and the initiative and interest and passion for investing their time and money into this business and trying to make it successful. They really worked well together."
Shaw and Kreiter have continued to grow their business with the addition of dancers to their crew. Shaw said the dancers increase participation with their audience by leading activities to involve everyone.
Kreiter said Spice City Music's ultimate goal is to see people happy.
"That's the best part of it, when someone comes up to you, like a little kid … and you see a big smile and they say, 'We had so much fun,'" said Kreiter. "That's what it's all for."