Glenbrook North goes green
Sarah Cruz and Annie Fogel, Features Editors
October 26, 2012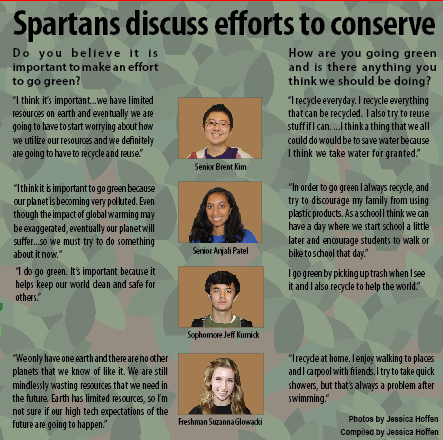 Reduce. Reuse. Recycle. The words are short, but they mean so much more.
Emily Koss, member of the Environmental Club, believes that everyone should abide by these words.
"It's so stupid when people don't make [eco-friendly] choices," said Koss. "We need to conserve what we have."
According to Bud Mathieu, AP environmental science teacher, people need to learn to reduce and reuse more than to recycle.
"What many people don't know is that recycling is the last resort," said Mathieu. "People need to understand that there's only so much material in the world."
According to John Finan, associate principal for administrative services at Glenbrook North, the USAgain bins that are located outside many of the school's entrances emphasize reusing. Students are able to place shoes and clothes that they no longer want or need inside the bin so that someone else can "use [them] again." GBN makes a small profit per pound that is collected.
"With that money we can buy things like additional recycling bins, or put it toward some environmentally focused project," Finan said.
Gail Fraser, associate professor in the faculty of environmental studies at York University in Toronto, Canada, believes that people today take for granted the available resources that remain.
"Ecologists today look to the state of the Earth in the 1970s and think, 'Look at how much intact land we had, if only we could have kept that,'" said Fraser. "I say this because in 2030 we could be thinking the same about 2012."
Mathieu thinks that GBN has taken great initiatives to becoming more eco-friendly, such as putting recycling bins in the cafeteria, upgrading heating and cooling and installing more efficient ventilation.
According to Dan Whisler, GBN's assistant plant operator, the school has made an effort to reduce the space used during after school hours in order to save ventilation energy.
"They save as much energy as possible while still delivering the volume of air that you need to achieve your set points, or your comfort level," Whisler said.
According to Environmental Club president Danielle Levine, the recycling bins found in the majority of classrooms can all be credited to strides made by the Environmental Club.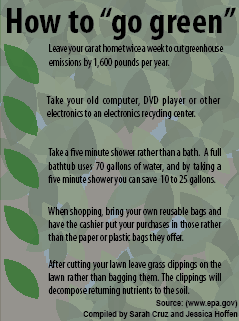 Levine and Koss believe that being eco-friendly can be very simple.
"[Being eco-friendly] doesn't take a lot of effort at all," said Koss. "When I see someone tossing a can in a trash can when a recycling bin is right next to it, I wonder why, since it doesn't even take much to toss it in the recycling bin."
The Environmental Club has also taken other steps to make GBN a more eco-friendly community. The main project they plan to be working on this year is the potential addition of a green roof on top of the school.
Mathieu said that the green roof would definitely benefit the school.
"In the summer, [the roof] would absorb much of the intense energy," said Mathieu. "In the winter, the thickness of the soil and the plants would insulate the roof and prevent heat loss. As long as the roof can sustain the weight of the plants, the green roof is a great way to save energy."
Finan believes that a green roof would be valuable for the GBN environment. However, the funding is not available right now.
"It's extremely important to do everything that we can to protect the environment, but we do have to operate within budgetary and logistical constraints," Finan said.
However, according to Finan, GBN does apply for grants to support other eco-friendly initiatives such as LED lights.
"We were able to obtain a grant for LED lighting last year, and we replaced all of our emergency lighting, which is lighting that runs 24 hours a day, seven days a week with, LED fluorescent tubes," Whisler said.
Finan supports GBN's effort to cut down on the amount of paper being used throughout the school.
"With the use of technology by teachers and students, there's not as much need to be printing out as much paper," Finan said.
Finan also mentioned that GBN's contract with Xerox is coming to a close.
"We're in the last year of our contract with Xerox," said Finan. "So the district's going to be entertaining proposals from other companies as well as Xerox."
Finan says that the district is doing the best they can to become more environmentally friendly.
"If you look at the period from the 2008-2009 construction until now, I think the district has come a long way in terms of trying to become more green," Finan said.
Senior Daniel Amram feels that GBN could do more to emphasize the importance of being green to students. He has talked to Pryma about the possibility of GBN having a day where students are exposed to environmental issues such as an All School Workshop. He believes that a "chain reaction" would result throughout the school.
Fraser thinks that it is important to make these changes as well, because the effects of not using the three R's would be "a lower quality of life and livelihood."
"It's nice to see that people are universally becoming aware of this issue," said Mathieu. "People have [been] recycling since forever, but in the past 20 years, everyone now believes that this is something that we should truly do."