Spartan sounds

Compiled by Allie Gross and Jessica Hoffen, Executive Opinions Editor and Executive Features Editor
January 25, 2013
Our community has many students who pursue music outside of school. Members of the Torch staff sat down with these musicians to find out how they got their start, what their journeys have been like, and much more. Some of these artists can be found on YouTube and others on iTunes.
Zaramela
Interviewed: senior Inho Park
How did you become interested in music?
I guess my parents sort of brought me into listening to music when I was a little kid. My dad bought me my first iPod when I was in fourth grade, and I've been listening to music ever since, and they made me take piano lessons when I was a kid, and I took guitar lessons.
How did your band get the name Zaramela?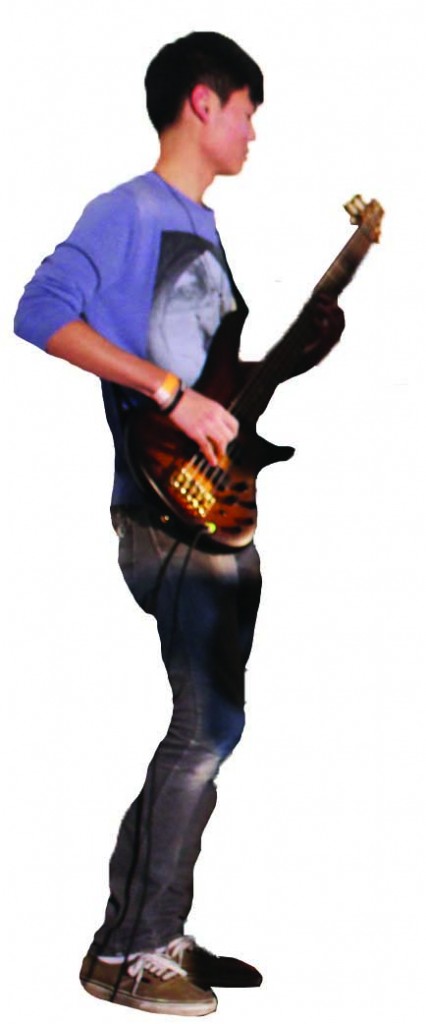 It's really random. It's really anticlimactic. My trumpet player went on a Spanish field trip, and they learned about this Spanish animator and his name was Zaramella with two L's, and we just thought it was a cool name, so we took his name and took out one L. It doesn't have much meaning to it. We're [going to] give it meaning.
Do you plan on continuing Zaramela after you all graduate?
We're all looking at colleges somewhere close to the Chicago area so we can get together every now and then either to record stuff or make more music.
How did you become involved with Zaramela?
I went to middle school with three of them and I was already friends with them. They needed a bassist, and I don't play bass, but they knew that I played guitar and I fooled around on the piano and stuff. … They just told me to come one day and I just picked up the bass and started playing it from there. So now I play the bass.
Tell me about your recent EP release.
We just released an EP, it's called "Work" and it has six of our songs on it. We recorded all of them over the summer. We went to Pressure Point Studios to record all of them, and we've just been getting them mastered. We're working to get that on iTunes.
What's your favorite part of being in the band?
I'd have to say just like collaborating and making music with a bunch of guys that you're really good friends with. It's like a lot of different influences and musical tastes coming into one to fuse into our band's sound, if that makes sense.
What's a funny story from your experiences with the band?
There's this one song that we play, and Aaron [Gamalinda], our trumpet player, he has a really high trumpet part, and he passes out every time we play that song. He drops to the floor and we have to catch him. That's happened like three times now.
What's your goal for Zaramela?
I mean I guess just try to get signed with a label and try to make it big, try to get our music out there and just have fun with it. I want to get to a point where I can live comfortably doing what I love to do.
SKA-lers
Interviewed: senior Danny Gordon
How did your band get the name Ska-lers?
It's a pun on "scholars" like, you know, the bookish types, and yet our main type of music is called ska, a combination of jazz, rock and reggae. [Band member] Aaron [Rabishaw] actually came up with the idea [that] we can use the word "scholars" and actually put the word 'ska' in it and that's kind of how it formed.
How did the Ska-lers start?
Last year [the band] tried out for [the Variety] Show and they didn't make it so the lineup kind of shuffled around a little bit and that's how I got in, but it was basically started by [senior] Sean Seno and a bunch of his friends. … I've been in the band for about a year now.
Who are your main musical influences?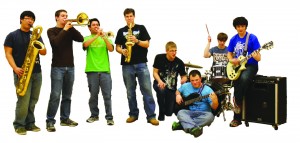 Our main influence is different ska artists. The one I think we take the most after is "Reel Big Fish." However, we are also definitely influenced by [the band] "Streetlight Manifesto" and we also play a lot of their music as covers.
Who is your target audience?
We will perform for anyone. We will perform in basically any venue that people want us to perform in, so we've performed in bars, we've performed at charity gigs, [and] we're going to be performing in [the Variety] Show.
What's been a moment that stands out for you?
There are a lot of things that stand out but I think the main thing that stands out the most is our first Landmark [Inn] gig because that was the first time we, as a finished group, performed together. … To be honest, it was one of the most fun [experiences] I've ever had as a musician because we were playing music that was fun. We were in front of an audience that was really receptive and we did well. … We played mostly covers, but we debuted our first original song there and it was a very good reception.
What's your goal as a band?
We're thinking that by the end of the year we might be able to have an album of original songs, emphasis on "might." [This is a goal] because so many of us are seniors and we're going to be graduating after this year. This is kind of the last summer that we're together.
Is there anything else you would like to accomplish as a band?
Really our goals are just to have fun and play as much as possible. We don't really care where it leads.
Phil Levine
 Interviewed: senior Phil Levine
How did you begin performing?
I started writing lyrics when I was in like seventh grade, and I started writing [guitar] music to those lyrics towards the end of eighth grade, and I've been writing since then.
Why guitar?
On a guitar, everything is a grid and the grid overlaps several times so you have, you know, three different places where you can play the same note on a guitar and … you can make very interesting music with it. It's very complex and I just love the way a good acoustic guitar sounds.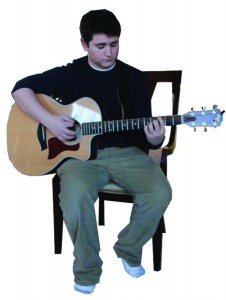 What genre of music would you categorize your music as?
I would categorize it as like acoustic, soft, pop rock kind of.
Who's the target audience for your music?
If I write something, it's for me, … it's a way for me to … express myself and when you're writing that way you really just want to show people when you have a finished product that you're proud of and so I'll like show it to my close friends and whoever wants to hear it.
Where have you performed other than at camp and with your friends?
I perform for school a little. I do the music transitions for [the] winter "One Acts" and I'm also in the [Variety] Show. One of my songs is a solo act in the [Variety] Show.
What has been the highlight of performing music for you?
I remember I recorded a song I wrote for my girlfriend and like going into the studio, I asked the guy to [record] it as a favor for me and he was like 'of course like, sure.' He thought it was going to be some … crappy love song and when I played it for him his eyes sort of widened. That was a very cool experience to find out that my writing is profound I guess.
What has been the most difficult part of writing music?
You're never done when you're writing. When you're really trying to write a song, you can be six months out of having what you think is a finished product and then you can decide that you don't like a certain line or you don't like a certain musical chord or note and everything can change.
Is there anything else you want people to know?
Go see [the Variety] Show. I think it was a goal for me to do one of my songs in the [Variety] Show and have that make it [because] … I'm really proud of what I do and, though I don't necessarily want it to be the be all and end all of me, I kind of want people to know that this is who I am.
Jared Hochberg Quintet
Interviewed: senior Jared Hochberg
How did you interest in music begin?
I kind of just started with the band program when everyone else did in like fourth grade. My dad's a guitarist, a professional guitarist, and so that helped get me motivated to practice.
What type of music do you perform?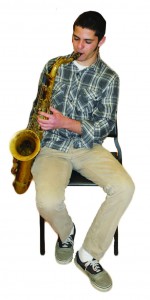 Black American music and jazz, but jazz falls under that category. … It's improvised music, that's the best way to put it, but a lot of other stuff falls under that category so I just say Black music that was created in America and that includes the blues and soul music.
Who are your main influences as a group?
The masters of this music. That would be like [jazz musicians] Miles Davis … John Coltrane … Charlie Parker, and then just anyone, anything, everything.
Did you grow up listening to these artists?
Yeah definitely, my dad always made sure I was hip to the jazz masters [because] it's America's classical music. It's actually the only art form that originated in the U.S., other than quilting.
Who is your target audience?
It happens that the people we play for are older than 40 which is unfortunate [because] it's weird to be playing with 50 year olds [because] we're kids, we have emotions that come from being young and not jaded and fresh and excited.
Where has your group performed?
We've played at the Jazz Showcase in Chicago which is the premier jazz club in the city. … We do a lot of private things like weddings and benefits for organizations and such. We played at the Make-A-Wish Foundation ball.
What has been the highlight of your career so far?
I wouldn't say there is one, I mean playing at the Jazz Showcase was obviously a big thing, but it's a never-ending thing playing jazz and I know that when I'm 80 I'm still going to be practicing as much as I am now.
What was the experience of playing at the Jazz Showcase like?
It was pretty great. We had over 100 people there the first set and for a jazz show that's a pretty big deal. It was really humbling because … in a sense, it put me in the same lineage … as all these great players who played on that stage. … It made me feel like I was part of this movement because jazz, it's really a movement, it's this spiritual and musical movement.
Last Resort
Interviewed: senior Kayti Gregory
What's the origin of your band name?
Honestly, the first two weeks of us being a band, we had our first show and we hadn't come up with a name and we had to make flyers, and [junior] Charlie [Laughlin] just [kind of] put that as a default name and we stuck with it.
How did your interest in music begin?
Probably from my older brothers. They're both musicians. My older brother was in "There Goes Atlantis," that was popular back when he was in school here.
When and how did Last Resort start?
Right at the beginning of last school year. I had known Charlie and Gary [Zucker] before, we were in a band called "42" together. That came out because Charlie's dad runs a rock band program at a school. Then I went to boarding school so we had to break up and when I came back they were like, okay, let's start another band.
Who are your main musical influences?
Definitely "My Chemical Romance." "Pretty Reckless" is definitely an influence, I don't know if they realize it [because] that's how my style of music goes. We don't agree very much when it comes to covers and stuff so it's hard to say what our influences are.
What's a funny story from your experiences as a band?
We just have general goofy times. We'll have long car rides to shows and stuff and there was a car ride where we were so bored and we ended up spending the entire time saying "Spongebob [Squarepants]" quotes. Just random stuff. 
What has been the highlight of your musical career?
When we won Rock the Green. That was exciting. That was this summer and we won like three or 400 dollars and we got to go to the studio. That was cool.
What's your goal as a band?
Just to have fun with it. Honestly, I think they're all planning on going into music somehow; I'm not really. As long as we're having fun, and the message of the songs is getting through to somebody, then we're happy with that.
Is there anything you'd like to add?
It's [kind of] cool that we have our originals mostly in a theme of sobriety, struggling with addiction and standing up against abuse and nice things like that, which I don't think a lot of people realize. I don't like to straight up point it out when we're playing the songs, because it's a little awkward, because I don't know how the audience is [going to] react. Mostly I've gotten good reactions, but if it's more of a punk crowd they're like, "This is lame."
Michael and Johnny
 Interviewed: sophomores Michael Gershuny and Johnny Bear
Who are your main musical influences?
Michael: Let's go with "Deadmau5." "Tiësto."
Johnny: It's really difficult because there's a lot of music that goes into it. "Daft Punk." Those are probably the biggest ones.
How much music have you released?
Michael: We've only officially released one remix. We have a lot of original tracks in the making at the moment, we just haven't put them up yet.
How do you create electronic music?
Michael: We'll sit down on piano and we'll just play music and we'll figure out a certain chord progression sequence that we want to work with. Once we're satisfied with the chords, we're [going to] work into a melody that we want to use. We start with the chord progression and everything else from there comes off that chord progression. The melody, and then the bass, we'll pull it from the same chord progression.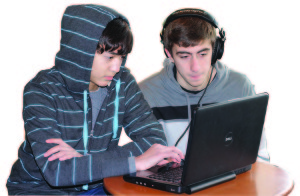 Johnny: Then you start to add your beat.
Michael: Then you add your percussion. … Once you have the core elements, the percussion, the bass, the melody, the chords, it comes to the composing and arranging aspect of it, how you like to mix your different elements in.
Johnny: And you can also add in, like, I've seen a lot of producers have sampled a bunch of different other things. A good example of that is a producer named Diplo, and he sampled a song from the rock band "The Clash" and he used it in one of his songs, and you can do that in electronic music. … You can incorporate a lot of different types of music that normally you wouldn't be able to.
Michael: Especially with the chords and how you build off the essential elements. Once you have those, you can take the music anywhere you want, but having the chords down and having the pieces in front of you first give you the versatility to take it anywhere.
Johnny: You can literally do anything.
Do you have anything to add?
Johnny: The one thing I would add is with musical production and producing, you really don't sleep that much. We've had nights where we've stayed up until four in the morning working on something. Like we just have a sleepover and we will stay up as late as possible to get somewhere where we enjoy what we made.