Attacking the tension: Laughter Yoga
Taylor Shuman, Features Editor
December 13, 2013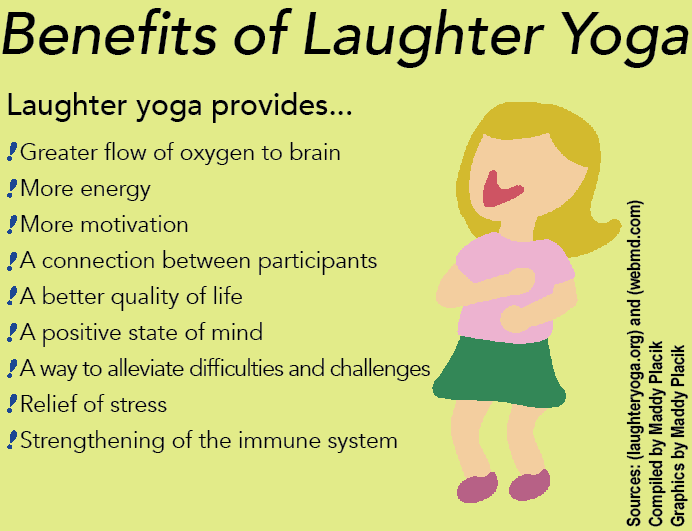 While watching his mom participate in Laughter Yoga, senior Rob Klein always thought it was the "absolute silliest thing." However, after undergoing a long surgery procedure during his sophomore year, Laughter Yoga helped Klein change his attitude.
"I'm much more open and playful," said Klein. "I went through this phase where I just wasn't and then Laughter Yoga happened. It really just renewed my faith in the world."
Laughter Yoga was established in 1995 by founder Dr. Madan Kataria. He was writing an article for his health class explaining why laughter is the best medicine and came to the realization that people do not laugh enough. He discovered a unique way to laugh, bringing numerous benefits to those who participate.
Laughter Yoga is the union of deep breath and the exercise of laughter. Kataria said that participants "fake it until they make it," because the body cannot differentiate between real and fake laughter.
Lynda Tourloukis, director of fun and frolic, is among many who reap the benefits of Laughter Yoga on a daily basis. This past summer, Tourloukis trained Klein to teach Laughter Yoga.
Tourloukis said she has participated in Laughter Yoga every day since April 18, 2008. One of the ways she said she gets involved is through leading Laughter Yoga phone sessions where people can call in, laugh and start their day off right.
Along with the laughter calls, Tourloukis said those looking for a way to let loose can join laughter clubs, where members come together to laugh.
One huge misconception is that participants do yoga poses, however, this is not the case. Participants attend 30 to 90 minute sessions filled with warm ups, stretching, breathing, laughter exercises and guided meditation.
Proven to relieve stress and help others connect, Laughter Yoga is increasing in popularity all over the world.
Kataria said Laughter Yoga is now practiced in 72 countries with over 16,000 laughter clubs in schools, colleges, companies, recreational centers and more.
"It's kind of like this bond that you automatically have with every other person," Klein said.
Throughout Tourloukis' time training, she said she has seen nothing but positive effects on her students.
"[Laughter Yoga] is really an eye opener for people," said Tourloukis. "People come to a realization. They realize they were meant to be joyful people."
A large part of Laughter Yoga is finding oneself, taking a trip through spirituality and finding inner peace.
"It's most definitely changed my viewpoint on the world, how I behave within it and how I see others in it," Klein said.
Laughter Yoga helps participants see the similarities in those around them instead of the differences. In an effort to unite students, Klein is looking to start a laughter club at school.
"It is a great way to bring world peace because laughter is no language— it is the same all over the world," said Kataria. "This is why laughter is universal."