A survivor's reflection on the Parkland tragedy
Sonia Zaacks, Features Editor
April 20, 2018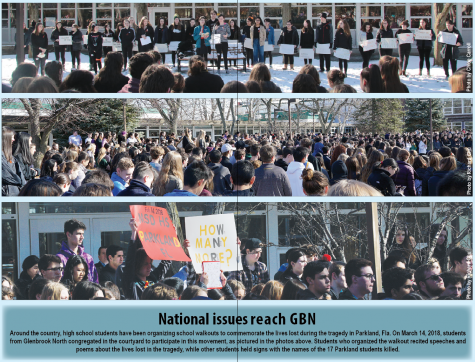 Despite the excitement of seeing all her friends on Valentine's Day, it was a pretty average morning for Naomi Rozenberg, a sophomore at Marjory Stoneman Douglas High School in Parkland, Fla. 
"I really did not want to go to school that day because I was just super tired, and I had a bunch of stuff to do that day in class, [so] I couldn't miss [those classes]," said Rozenberg in a phone interview. "Everything was just pretty benign. … Second period we had a fire drill, so we went out for a fire drill, and that was that."
During lunch, Rozenberg said she exchanged Valentine's Day gifts with her friends and then went to her last class of the day during which she gave a presentation. At around 2:20 p.m., the fire alarm went off again, unexpectedly, and Rozenberg and her fellow classmates evacuated the school and were led to the field by their teachers. 
"A kid goes up to me and says that everybody is saying, 'It's a code red, it's a code red,' which means active shooting," said Rozenberg. "So I think that's not possible because we would still be in the building if that was happening."
According to Rozenberg, the faces of students and staff grew increasingly worrisome as rumors were spread of an active shooter at the school. Teachers began directing students to a shopping center across the street. 
"[We] start walking more towards Walmart," said Rozenberg. "If it is actually an active shooter, I don't want to be, you know, in the front line of that. So I start walking, and then I start seeing people's Snapchat stories. I swear I heard gunshots, so I start walking faster, and by then I'm freaking out."
Rozenberg said she started calling her parents to reassure them that she was safe and spoke with her father who offered to pick her up near Walmart. 
"People were kind of reluctant to walk [away from the group], but I told my friends, I told everybody, 'Come on, let's go, I don't care' because everybody was scared they would get a detention or something for walking off campus, but I told them, 'It doesn't matter,'" said Rozenberg. "At this point, …  I would rather get a detention than be hurt."
After the loss of 17 lives, Rozenberg returned to school a few weeks after the tragedy. She felt lucky to have been evacuated from the building and to have  the chance to run away from the group, as many of her friends were stuck inside school closets until the evening hours on the day of the shooting.
"It kind of felt normal [to be back] because I was back on campus … but they actually made the days [shortened] which ended at 11:40 [a.m.] instead of 2:40 [p.m.]," said Rozenberg."There were a lot of therapy [doctors], so that was very nice. … Now, [administrators] are actually always checking that you have a pass in the halls, and I think thatthey started telling us we need to wear a school ID on our lanyards at all times, so I think that's a really good start."
Rozenberg is originally from Belgium and immigrated to Florida in 2013. Her family chose Parkland because they considered it to be a safe city. Despite the tragedy that occurred at her school, Rozenberg said there has been endless support for her community. 
"The pain that I'm feeling, the pain that my community is feeling, is just unbearable."The amount of support we are getting — I think [it is] amazing because of course I think it should happen, but to see it happen, to see, you know, this kind of support for the community through the country — I'venever seen that," said Rozenberg. "I don't think I would ever see that in Belgium because I really think that when we say, 'the United States,' we are really united."