Senior embarks on immersion trip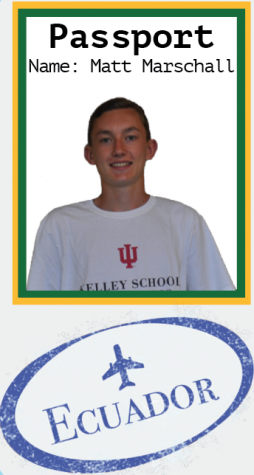 Attending college right after high school was what senior Matt Marschall had always expected to do. Yet, after attending a gap fair program during his junior year, he began to look into various postgraduate options. He plans to take a gap year in which he will travel to Ecuador to live with a host family and participate in an internship before attending the Kelley School of Business at Indiana University in Bloomington in the fall of 2019.
"I hope to gain some leadership abilities by becoming more confident in social scenarios so I can become a better leader once I get to college and then the real world," Marschall said.
He said he plans to travel to Ecuador through Amigos de las Américas for his first semester and then is thinking about participating in a program through Rustic Pathways, in which participants can explore Australia, New Zealand and Fiji, for his second semester. While in Ecuador, he plans to participate in an internship through partner agencies such as a hands-on agricultural program or an entrepreneurial program. The entrepreneurial program would be a helpful precursor to the business program he intends to participate in during college.
Erin Aucar, regional outreach coordinator for the East Coast and Midwest at Amigos de las Américas, said in a phone interview that taking a gap year has many benefits because becoming more globally and personally aware is an investment in a person's future.
"Some people think of a gap year as a 'year off,'" said Aucar. "But we, [at Amigos de las Américas], like to think of it more as a 'year on' to experience your passions, experience the world and learn about yourself."
According to Marschall, he is nervous about taking a gap year because all of his friends are going directly to college, but he thinks that once he gets to Ecuador all the nerves will go away.
"I hope to gain, like, a bigger purpose and drive to work hard when I return back home," said Marschall. "Because from here, it'll just be college, [and] then I'll be working in the real world. So, I really hope to just take a good year off and enjoy it and refresh myself."