Computer science clicks with students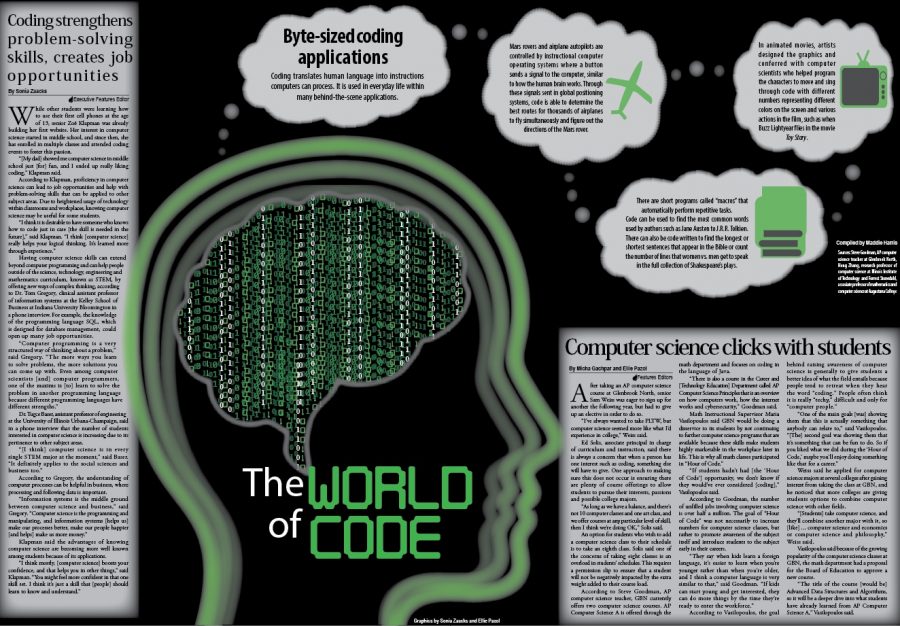 Micha Gachpar and Ellie Pazol, Features Editors
February 1, 2019
After taking an AP computer science course at Glenbrook North, senior Sam Weiss was eager to sign up for another the following year, but had to give up an elective in order to do so. 
"I've always wanted to take PLTW, but computer science seemed more like what I'd experience in college," Weiss said. 
Ed Solis, associate principal in charge of curriculum and instruction, said there is always a concern that when a person has one interest such as coding, something else will have to give. One approach to making sure this does not occur is ensuring there are plenty of course offerings to allow students to pursue their interests, passions and possible college majors.
"As long as we have a balance, and there's not 10 computer classes and one art class, and we offer courses at any particular level of skill, then I think we're doing OK," Solis said.
An option for students who wish to add a computer science class to their schedule is to take an eighth class. Solis said one of the concerns of taking eight classes is an overload in students' schedules. This requires a permission slip to ensure that a student will not be negatively impacted by the extra weight added to their course load.  
According to Steve Goodman, AP computer science teacher, GBN currently offers two computer science courses. AP Computer Science A is offered through the math department and focuses on coding in the language of Java.
"There is also a course in the Career and [Technology Education] Department called AP Computer Science Principles that is an overview on how computers work, how the internet works and cybersecurity," Goodman said.
Math Instructional Supervisor Maria Vasilopoulos said GBN would be doing a disservice to its students by not continuing to further computer science programs that are available because these skills make students highly marketable in the workplace later in life. This is why all math classes participated in "Hour of Code." 
"If students hadn't had [the 'Hour of Code'] opportunity, we don't know if they would've ever considered [coding]," Vasilopoulos said. 
According to Goodman, the number of unfilled jobs involving computer science is over half a million. The goal of "Hour of Code" was not necessarily to increase numbers for computer science classes, but rather to promote awareness of the subject itself and introduce students to the subject early in their careers. 
"They say when kids learn a foreign language, it's easier to learn when you're younger rather than when you're older, and I think a computer language is very similar to that," said Goodman. "If kids can start young and get interested, they can do more things by the time they're ready to enter the workforce."
According to Vasilopoulos, the goal behind raising awareness of computer science is generally to give students a better idea of what the field entails because people tend to retreat when they hear the word "coding." People often think it is really "techy," difficult and only for "computer people." 
"One of the main goals [was] showing them that this is actually something that anybody can relate to," said Vasilopoulos. "[The] second goal was showing them that it's something that can be fun to do. So if you liked what we did during the 'Hour of Code,' maybe you'll enjoy doing something like that for a career."
Weiss said he applied for computer science majors at several colleges after gaining interest from taking the class at GBN, and he noticed that more colleges are giving students options to combine computer science with other fields.
"[Students] take computer science, and they'll combine another major with it, so [like] … computer science and economics or computer science and philosophy," Weiss said. 
Vasilopoulos said because of the growing popularity of the computer science classes at GBN, the math department had a proposal for the Board of Education to approve a new course.
"The title of the course [would be] Advanced Data Structures and Algorithms, so it will be a deeper dive into what students have already learned from AP Computer Science A," Vasilopoulos said.