Minimum wage set to increase to $15 an hour by 2025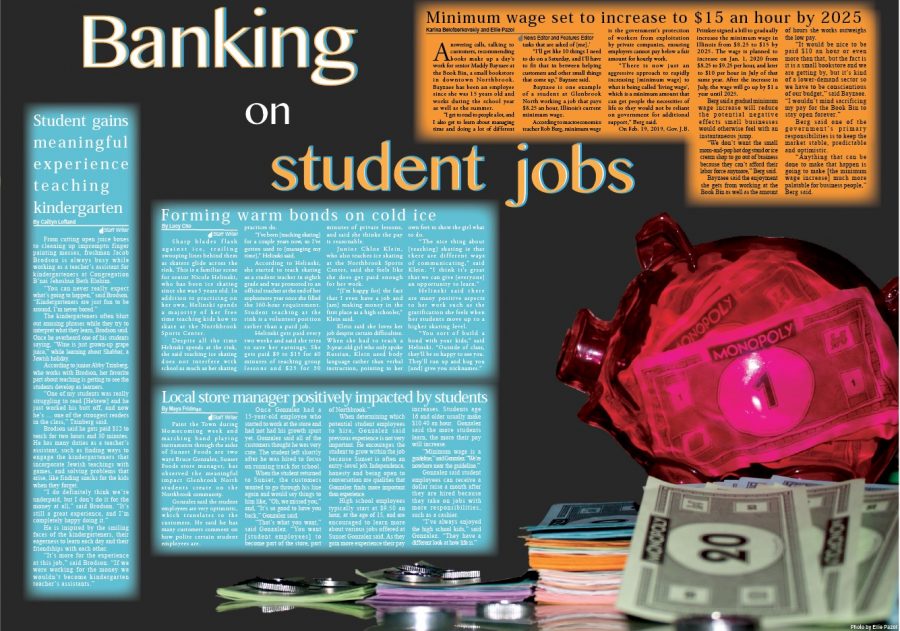 Karina Belotserkovskiy and Ellie Pazol, News Editor and Features Editor
April 18, 2019
Answering calls, talking to customers, recommending books make up a day's work for senior Maddy Bayzaee at the Book Bin, a small bookstore in downtown Northbrook. Bayzaee has been an employee since she was 15 years old and works during the school year as well as the summer.
"I get to read to people a lot, and I also get to learn about managing time and doing a lot of different tasks that are asked of [me].'
"I'll get like 10 things I need to do on a Saturday, and I'll have to fit that in between helping customers and other small things that come up," Bayzaee said.
Bayzaee is one example of a student at Glenbrook North working a job that pays $8.25 an hour, Illinois's current minimum wage.
According to macroeconomics teacher Rob Berg, minimum wage is the government's protection of workers from exploitation by private companies, ensuring employers cannot pay below a fair amount for hourly work.
"There is now just an aggressive approach to rapidly increasing [minimum wage] to what is being called 'living wage', which is a minimum amount that can get people the necessities of life so they would not be reliant on government for additional support," Berg said.
On Feb. 19, 2019, Gov. J.B. Pritzker signed a bill to gradually increase the minimum wage in Illinois from $8.25 to $15 by 2025. The wage is planned to increase on Jan. 1, 2020 from $8.25 to $9.25 per hour, and later to $10 per hour in July of that same year. After the increase in July, the wage will go up by $1 a year until 2025.
Berg said a gradual minimum wage increase will reduce the potential negative effects small businesses would otherwise feel with an instantaneous jump.
"We don't want the small mom-and-pop hot dog stand or ice cream shop to go out of business because they can't afford their labor force anymore," Berg said.
Bayzaee said the enjoyment she gets from working at the Book Bin as well as the amount of hours she works outweighs the low pay.
"It would be nice to be paid $10 an hour or even more than that, but the fact is it is a small bookstore and we are getting by, but it's kind of a lower-demand sector so we have to be conscientious of our budget," said Bayzaee. "I wouldn't mind sacrificing my pay for the Book Bin to stay open forever."
Berg said one of the government's primary responsibilities is to keep the market stable, predictable and optimistic.
"Anything that can be done to make that happen is going to make [the minimum wage increase] much more palatable for business people," Berg said.