ZeeMee provides 'Instagram' for admissions
Gillian Redstone, Staff Writer
March 3, 2017
Hang on for a minute...we're trying to find some more stories you might like.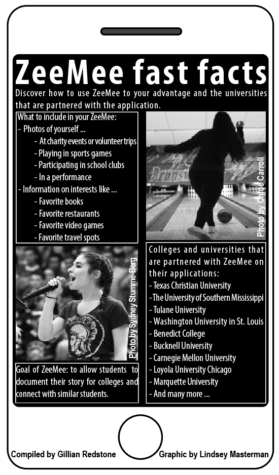 ZeeMee, a social media app for college admissions officers to learn more about applicants, was brought into creation by a high school teacher at the time for at-risk students. He believed that there was much more to his students than their test scores and grades.
"I worked with students who would go home and had moms on drugs, [abusive boyfriends and] dads in jail … ," said Adam Metcalf, co-founder and chief product officer of ZeeMee. "That type of student can't focus on school work. Who cares about Napoleon if you're trying to survive?" 
According to Metcalf, ZeeMee was created and exists to share the unique story that each student has with the colleges that he or she is applying to. 
"ZeeMee is a platform [through] which students can share their story [with] college admissions [officers] with photos and videos to showcase that [they are] much more than a score … or a two-dimensional resume," Metcalf said.
ZeeMee users can upload photos and videos of anything from athletics and volunteer work to performance and visual arts to travels and computer code writing.
It can also include an optional feature where students record a one to two minute "Meet Me Video" in order to introduce themselves.
Metcalf said students can create a ZeeMee account at any stage of their high school careers and can continue to build their profiles throughout this time, or they can create an account right before applying to college.
"I think that the video piece is by far the most compelling part of the profile to college [admissions officers]," said Metcalf. "They love to see [students] just raw and authentic. … Tulane University often talks about how ZeeMee humanizes the process."
Sophomore Amanda Golde said when she begins to apply to college, ZeeMee could help her show colleges who she is as a dancer and performer outside of academics. 
"I could show [colleges] what kind of [dancing] I do in Variety Show and what I like to do as I do it," said Golde. "It means more than just words."
The schools that partner with ZeeMee have a specific section in their application for students to include the link to their ZeeMee profile. Schools that consider ZeeMee on their applications include Carnegie Mellon University, Tulane University, Loyola University Chicago, University of Denver, Washington University in St. Louis and many more.
Students can also link their ZeeMee account in the "Additional Information Section" of the Common Application or in the "Locker" portion of the Coalition Application if their school of choice is not partnered with ZeeMee.
The app can further be used as a way to connect with fellow college applicants and possible future roommates.
Jackie Hoefler, senior director of admissions at Lake Forest College, said ZeeMee gives admissions officers a different perspective on their applicants.
"ZeeMee really brings students' [applications] to life," she said.
Metcalf said admissions officers frequently tell him that ZeeMee adds excitement and personability to an application by putting a face to a name.
"Being able to use your photos and videos to really capture who you are is powerful, " said Metcalf. "We often hear from admissions that ZeeMee makes their job more fun."