Students express beliefs through clothing
Leah Matlin, Features Editor
April 20, 2018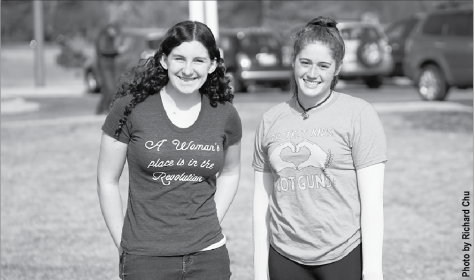 About a week after the shooting at Marjory Stoneman Douglas High School, senior Casey Frey, a Deerfield High School student, was asked by her friend if she wanted to help make shirts for fundraising. Frey immediately agreed, and they designed the shirts. All profits from sales continue to be donated to Everytown for Gun Safety, an organization that supports gun control and works to end gun violence. So far, Frey and her friend have raised approximately $7,300.
"I think that it's more than just [wearing] the shirt because I can have a conversation, and I can explain why I'm wearing the shirt.
"It also shows this is what I stand for," said Frey. "[Wearing and making the shirts] is what I'm trying to do to [promote] change."
Kristina Haugland, associate curator of costume and textiles at the Philadelphia Museum of Art, said in a phone interview that people wear clothing with messages as a way to make their beliefs known. However, wearing these clothes can be considered a passive form of activism because they are not necessarily actively doing something to help change.
"Certainly if you have a garment or accessory or something that shows [support], you're communicating non-verbally to everyone," Haugland said.
According to Frey, the front of the shirts say "PROTECT KIDS NOT GUNS," and the back of the shirts have the phrase "thoughts and prayers" crossed out and replaced by the words "POLICY & CHANGE." Multiple shipments of shirts have been sent to students from high schools including New Trier, Highland Park, Deerfield and Glenbrook North. The first shipment sold around 1,300 shirts for the nationwide walkout.
"Whether people's eyes are on me or not, I'm obviously [making and wearing shirts] because I believe in [change]," Frey said.
Haugland said people open themselves up to the criticism of others when they wearing clothing to express their opinions.
"[These people may] think more poorly of you and even confront you … or treat you differently because of it," Haugland said.
A student who wears clothes with conservative messages declined to be interviewed for this article.
Junior Maddie Guest said she has worn many shirts to school that share politically charged ideas. Some of her shirts display messages such as "nasty woman," "I STAND WITH DREAMERS" and "Feminism: the radical notion that women are people."
"Last year when the election turned out as it did, my sisters and I decided to wear political clothing, and then I just kept doing it," Guest said.
Guest said seeing someone in a shirt once does not necessarily change anything. However, she thinks it can connect people who feel the same way about certain topics because it is easier for someone to see they are not alone.
"I really normally don't want to upset other people, but when it comes to political beliefs, I really don't mind because that should be something [I am] proud of," Guest said.
After the 2016 election, Guest said she remembers wearing her "Ready for Hillary" shirt and feeling awkward until an acquaintance came up to her, hugged her and thanked her for wearing the shirt.
Frey said she hopes she is making a difference by creating the shirts but also believes there are many other steps to take to affect change.
"Obviously the amount of [shirts we sell] and the amount of money we are able to donate to Everytown [for Gun Safety] will change," said Frey. "But the rest of it is up to everybody else. Like yeah, the shirts and the money are doing a bunch, but talking, spreading the word, going to town halls [and] going to D.C. for the march. There is so much more we have to do."