Spread joy, not COVID-19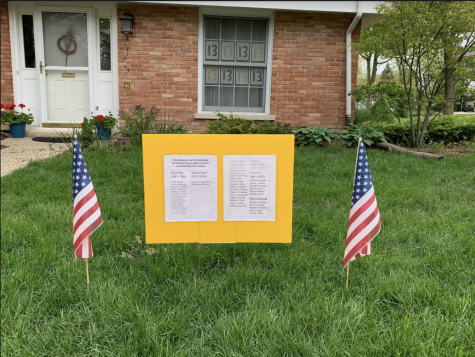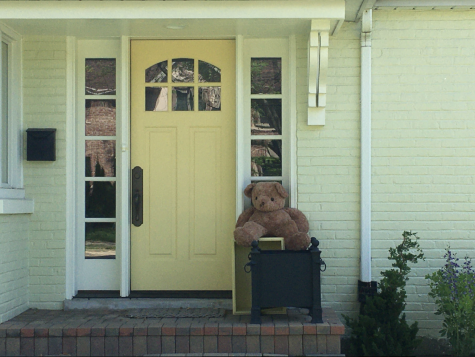 Amidst the COVID-19 pandemic, Northbrook residents have filled the town with uplifting signs and messages. Below you will find some ways to spread positivity, feel more connected to the community and focus on the good during this challenging time.
Chalk and window notes galore
In sky blue chalk, social studies teacher Emily Horvath wrote a quote from Joseph Campbell on her driveway for Memorial Day that read, "A hero is someone who has given his or her life to something bigger than oneself."
In a phone interview, Horvath said she has been creating uplifting messages and artwork in her front windows and on her driveway throughout the COVID-19 pandemic for kids and families to view as they walk by her house. Horvath started this activity in mid-March after a neighbor organized a weekly list of designated window themes that lasted approximately five weeks. She created signs and artwork in the following weeks both by herself and with the help of her kids. After the themed window signs ended, Horvath continued to decorate the outside of her house to spread joy to neighbors — from Easter decorations to a Mother's Day quote to honoring Northbrook citizens who had passed away serving their country on Memorial Day. 
Even though students, teachers and staff are at home, Horvath said she is still emulating what it means to be a Spartan.
"One of the missions of the school is to be positive, be proud and be a Spartan, and it totally kind of reflects on who we are as Spartans," said Horvath. "So, to me, just because I'm at home doesn't mean I'm not gonna continue to [be positive]."
Seen any bears around Northbrook?
The Northbrook Public Library is promoting reading and community interaction from afar during the COVID-19 pandemic through a Northbrook Bear Hunt. They created the bear hunt based on the book We're Going on a Bear Hunt by Michael Rosen. The activity is scheduled to take place through June 30.
In a phone interview, youth librarian Anna Fillmore said the Northbrook Public Library has a picture of a bear on its website that can be printed out and colored, or an already colored picture can be printed. Both bear images are available on their website (www.northbrook.info/find/bear-hunt). Stuffed animal teddy bears can also be used in the hunt. Place your printed bear, colored bear or stuffed animal bear in a front window of your house for neighbors to see as they walk by.
"The idea is that you put [a bear] in your window, and it's a way of connecting with your community without having to be close to them," said Fillmore. "It's perfectly safe, so it has no anxiety in it, and it's just fun and friendly and creative."