SaLT offers immersive service experience
Grace Chatas, Features Editor
March 2, 2018
Hang on for a minute...we're trying to find some more stories you might like.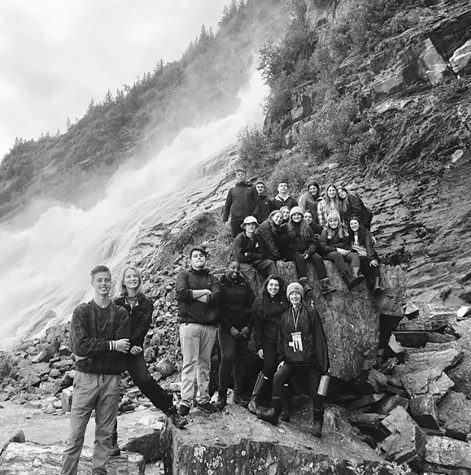 While operating the first wheelchair-accessible carousel, junior Allison Miller stood in awe as she watched children with life-threatening illnesses experience the joy of a carnival ride for the first time. Miller did not expect to be so moved by her interactions when she signed up for a volunteering trip in Orlando through Service and Learning Travel, also known as SaLT.
"After watching those kids that have never had that kind of opportunity before just be so excited, I realized just how excited I was … and how nice it was to be [involved in the experience]," Miller said.
During her trip in February 2017, Miller served Make-a-Wish families at Give Kids The World Village, a theme park designed for children with chronic illnesses, during a three-day event hosted by SaLT. The program is devoted to promoting national volunteerism and cultural experiences for high school students in the Chicagoland area.
The organization currently offers a total of three trips each year to Orlando, New Orleans and Juneau, Alaska. The New Orleans trip is scheduled to take place from April 2 to April 7, while the Alaska trip is set to take place from July 21 to July 28.
Students can sign up for SaLT trips on the organization's website (www.saltstudenttravel.com) byfilling out the SaLTrip Interest Form. The costs of the trips range from $1,560 to $3,600 depending on the location, duration and activities of each trip. Scholarships are available. The sign-up deadline for the New Orleans trip is March 1, and the deadline for the Alaska trip is May 1, but students can still sign up after these dates with no additional fee.
According to SaLT co-founder Ida Fiore, the organization's service trips also emphasize involvement in a city's local culture through sightseeing, cuisine and leisure activities. Each trip presents unique opportunities to make an impact in local communities. For example, students participating in the New Orleans trip will have the opportunity to help with local gardens, repair damaged homes and clean up lakes to restore areas of the city in need of hurricane relief.
Junior Reece Gruemmer said she participated in the Alaska trip in July 2017 as a way to learn about the cultures of the local tribes while restoring hiking trails and preparing a new community center.
"I helped mostly in the kitchen [of the community center], and it was amazing to see the grateful, appreciative people as they took their meals," said Gruemmer. "Seeing their faces light up with joy as they got food, which many of us take for granted, was heartwarming. … Although it doesn't seem like much work to prepare a meal, little [acts] can make differences in people's lives."
SaLT co-founder Brad Swanson said the program is open to high school students with a willingness to respect and serve others. Although Swanson works for Glenbrook High School District #225, SaLT is not directly associated with Glenbrook North, and students from 15 other local high schools have participated in the program. The organization is led by educators and encourages students to effectively communicate and gain leadership and volunteering skills they can implement locally.
"[Participants will often say], 'You know what, I'm going to look at service at my school a little differently,'" said Swanson. "So for them to bring it home is really important for us. We don't want SaLT to just be a cool week. We want it to be something that has a ripple effect."
Miller said the Orlando trip reinforced her love for volunteering and allowed her to see the impact of the work she was doing.
"I'll never forget how excited those kids were," said Miller. "It was incredible. It was such a good feeling to see them being able to try something new and do something that they love so much."