Illinois updates hate crime law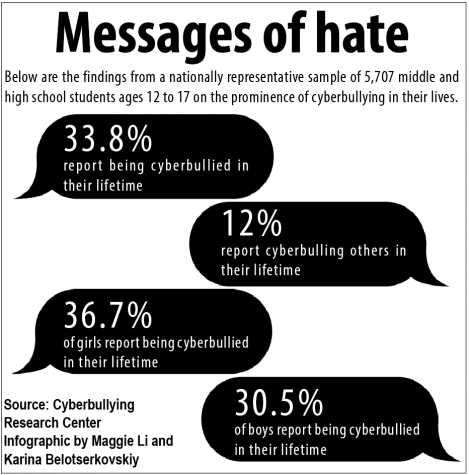 As she glanced through her Instagram feed, junior Erin Rosenfeld would often see unprompted, hateful comments on the "GBN Students Against Gun Violence" account, an account that is not affiliated with District #225. She saw many comments that did not relate to gun violence, including one that read, "Gay people are not real people."
"I replied to [that comment] and I was like, '[Guess I'm not a real person then],'" Rosenfeld said.
Although Rosenfeld's experience was not a hate crime, according to a press release posted on the Illinois Attorney General website, the Illinois law defining and prosecuting hate crimes was updated to include attacks through technology, protecting against similar but more severe situations than Rosenfeld's. Cyberstalking, or using electronic communication to harass someone, was included in the update. Along with the transmission of obscene messages, both internet offenses can now be charged and prosecuted as hate crimes. The update went into effect on Jan. 1, 2018 and was updated because of an increase in attacks using technology.
A hate crime is defined as a criminal offense, such as assault or battery, motivated by a "real or perceived bias" against a person or a group of people, said Lonnie Nasatir, regional director for the upper Midwest region of the Anti-Defamation League, also known as the ADL, in a phone interview.
"[If] I punch someone because of a monetary dispute or because someone cut me off in my car, [it] would be a simple battery," said Nasatir. "But, if I punch somebody because they are Jewish, gay, black, female, you name it, then it would be [battery] with a hate crime charge, [and] that battery can go from a misdemeanor to a potential felony."
Rosenfeld said she has not witnessed or experienced hate crimes in person or on social media, but she was involved in a dispute on someone's Instagram post over women's rights that left her feeling shocked and upset. People made comments like, "What rights do men have that women don't?" and, "Women choose to get paid less."
"I was surprised because I had never really come into contact with people who didn't believe that there are differences in rights between men and women, especially because this person was a girl herself," Rosenfeld said.
Jeanette Jordan, associate dean of students, said the Deans' Office does not get reports of hate crimes often, but instead is notified of disagreements between students, unrelated to their beliefs. The deans follow the bullying and harassment policy in the Student-Parent Handbook when dealing with a situation and require evidence such as screenshots or photos of any incident, online or in person. Jordan did not see an immediate effect of the law on the Glenbrook North policy. 
Nasatir said the ADL supports the law because hate crime legislation is a big focus of the organization. He believes there will be more crimes prosecuted because of the additions now covered by the statute.
"There's no question that this law will be used," said Nasatir. "Now that social media is so commonplace and … almost everybody has access to social media and a phone, as a result, you now have to adapt to the times, … and I think that was the impetus for this law here in Illinois."
After hearing about the law, Rosenfeld said she thinks the update protecting against online hate crimes is beneficial.
"I feel like people hide behind screens to feel like they can say whatever they want to say because they're not in person," said Rosenfeld. "It's less confrontational in a way. I feel like for people to know that there [are] consequences for things that you say even though it's not in person, [that is] a good thing."