Security changes intended to address safety
Andreea Sabau, News Editor
April 20, 2018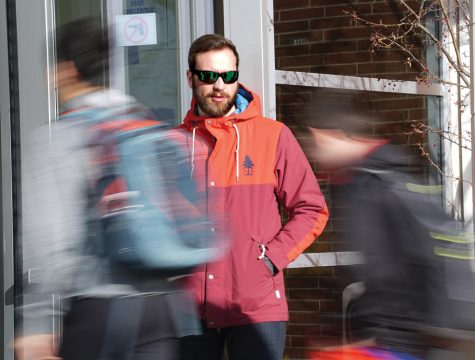 Security protocols are constantly evaluated at Glenbrook North, but the shooting at Marjory Stoneman Douglas High School in Parkland, Fla. was a catalyst for GBN to officially roll out recent changes. 
Dean of Students William Eike said, "Several weeks ago, after the Florida shootings, … a lot of school districts throughout the nation went back to review their safety protocol for students. 
"More eyes and ears [are now] out observing what's going on throughout the building throughout the day." 
According to Principal John Finan, revisions enacted shortly after the Parkland incident include limiting access for students and visitors through certain doors and attentively monitoring extracurricular and after-school events with increased staff presence through a renewed partnership with American Heritage Protective Services, a security provider. 
Additionally, a company called Facility Engineering Associates recently conducted a physical security assessment at both schools in the district, said Finan. As part of the evaluation, a survey was sent on March 16 to students and staff regarding overall safety and security, the results of which will guide further changes. The district is in the process of modifying crisis plans, which would entail renewed training for all staff and students in the near future. 
Junior Dylan Degabli said he appreciates how the new security changes have addressed many of the "what-if" factors that could affect student safety. However, he believes the "paraprofessionals with walkie-talkies" are not sufficient protection and an armed guard should be stationed at each unlocked door. 
According to Finan, the increased security presence outside school hours consists of unarmed civilian security officers who serve to conduct a visual review of people who enter the building and to inspect bags if necessary.
"We would like these folks to become like our own employees where they develop relationships and get to know the kids and families coming to events.
"But they're going to be looking out for something that appears to be unusual, and they're going to be in radio contact with the rest of our staff if any situation were to present itself," Finan said. 
According to Eike, the Deans' Office always follows similar procedures in response to student threats: meeting with the student making the threat to determine whether he or she is violating school rules and following up with appropriate consequences for the infraction. Because students have been quick to report potential threats thus far, he encourages students to continue informing the Deans' Office or the administration of safety concerns to prevent a situation from escalating. 
"If somebody heard that someone was going to bring a knife to school, and we knew about it ahead of time, we investigate it, [and] we try to inform as many people as possible," said Eike. "We talk to the individual [and] to the individual's parents to try to shut down the threat or the rumor before anything might happen."
Melanie Berkowitz, parent of two GBN students, said she is a member of North Shore Women for Action, a group of parents formed after the 2016 election to address numerous political issues. Given the trend in recent events, the group has focused its efforts on school safety with a proposal of issues they would like to see addressed: physical safety at the schools, social and emotional needs of students and improved communication between the administration and the school community. 
She reiterated these goals and requested to form a safety panel for the district including parents during the Feb. 26 Board of Education meeting.
"When your kids get to high school, you give up a lot of knowing what's going on.
"You want them to be independent, but we also … wanted to make ourselves available to help the administration as they think of new ways to address school safety," Berkowitz said.
According to Finan, as part of the Federal Emergency Management Agency and National Incident Management System recommendation for school crisis plans, each school in the district is set to create a safety committee by the end of the school year in which parents, staff, students and the administration can discuss actions to take to increase school safety.
Junior Bridget Billig said she believes security at GBN is strong, especially during the school day. However, she has felt frustrated by the lack of communication she has had with teachers regarding security. She believes these situations occur due to the political affiliations certain aspects of school security can have. 
"I definitely do not think security or even guns in school is a political issue," said Billig. "It just seems like common sense. … I do not see how putting dangerous weapons with a whole bunch of kids and people that are not trained with guns would help anything." 
Finan said he does not believe school safety should be politicized. 
"[School security] is a topic that's about all of us feeling safe, having that level of comfort that we should have and wanting to go to school every day and to work in a school environment," Finan said.
According to Finan, although the administration has tried to be as open as possible with updating students about the new security changes, some procedures may not be fully publicized due to privacy and safety concerns. 
Eike said, "I think that we've done an awful lot throughout [these] past couple of weeks as far as trying to tighten up security. Are we going to be able to please everybody? Probably not, but I think … the one thing I really appreciate [is] … the help that the student body and our faculty and staff give as far as when issues do come up."