Class board changes create new committees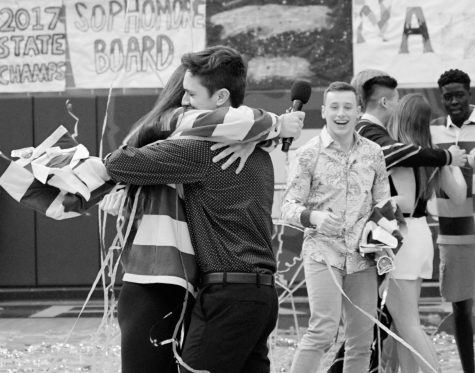 After attending a conference last school year to learn about what other high schools are doing to improve their student governments, Mike Tarjan, assistant principal for student activities, was inspired by youth motivational speaker Scott Backovich to introduce changes in how class boards are run.
Tarjan plans to establish five different committees, each with its own focus on improving the school. Their purposes will be solidified during the summer. Each committee will be made up of class board members from all grades, and they will meet twice a month during lunch in addition to regular class board meetings.
"We have a great school and a great community, and there's always a place for us to be appreciative, kind and respectful to others," said Tarjan. "I think through these changes, that's the focus. Our hope is to get more students and staff in a place where they feel like it's not a difficult task to be involved outside of classroom activities."
According to James Hoover, sophomore class board sponsor, some potential committees for next year include a group to plan assemblies with SA Board and a committee to create a more energetic and positive environment and school culture.
"We're trying to really create a student association instead of freshmen working on their own thing, sophomores working on their own thing [and so forth]," Hoover said.
Backovich, who is also the owner and founder of Envolve, a company focused on leadership training in schools, said he told Tarjan that activities for students need to build trust and start with "lower risk activities," such as giving gifts and spreading positive messages. Because students are so busy, he wants them to create activities that have a larger focus on giving an experience to the student body.
"My goal was for the students to understand the power that their activities have," said Backovich in a phone interview. "Not only can they make good days really great, but they can also make bad days really bearable and a lot better for students at school."
Sophomore Francesca Fera, a liaison for sophomore board, said a current issue with class boards is that some people feel like they do not have a voice, causing a decline in meeting attendance.
"There's only a handful of students who are really passionate about it and … want to be there.
"Kids that maybe don't show up to a lot of things maybe feel like them showing up won't make a difference, so I feel like we need to bring everyone back together," Fera said.
Junior Matt Livas, a liaison for junior board, said another goal in introducing the committees is to move away from a hierarchy within the class boards to create a role for everyone.
"Right now it feels like there are definitely a few people who step up at meetings and others who just kind of go with the flow," said Livas. "I'm really excited for a lot of people who maybe don't express their ideas as much to really step up because they will be doing that with committees. I'm excited for everyone to feel like they've got responsibility."