District adds security measures
Sarah Sandlow, News Editor
September 28, 2018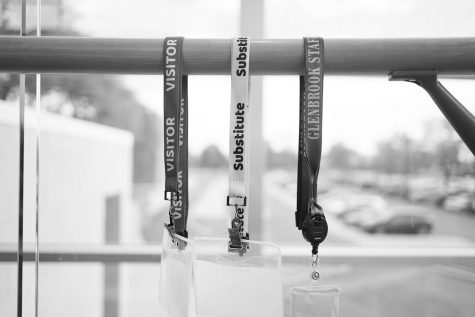 Due to the general trend of tensions over the amount of school security, Dean of Students William Eike worked with administrative members of Glenbrook High School District #225 to update safety policies and implement other security changes in addition to those that occurred at the end of last year.
"I think [increased security is] all positive because wherever you go, you're going to see [it]," said Eike. "That's just kind of reality right now in today's society."
Security changes that were implemented at the beginning of this school year include improving faculty and visitor identification throughout the building by use of different colored lanyards and visible ID badges. The crisis protocol was also modified to include barricading classroom doors in the event of an active threat, and teachers are expected to be trained on these procedures in October. In addition, changes such as the usage of bullet-resistant safety glass glaze are expected to be made to the front entrance to improve safety in the area, but the time frame for this construction is unknown. Major security improvements made last year are still in place. 
According to Eike, the new position of safety and security manager was created this year, and it was filled by Joel Reyes. Reyes oversees the safety of district buildings, helps with crisis response and incorporates security as part of the educational process.
Reyes said his experience as a commander with the Northbrook Police Department and as the department's designated emergency manager have helped him to understand the concept of emergency management. With emergency management, he focuses on how to prepare for an emergency, what to do during one and how to deal with the aftermath of an incident should one occur. He emphasizes prevention and access to information about surroundings as the key to emergency management.
"Do we perceive ourselves to be safe, or are we truly safe?" said Reyes. "Part of [feeling safe] is information.
"The more you know, the more you can plan. The more you can plan, the better you can respond."
Senior Alex Williams, who is a member of marching band, said in the past he used the cafeteria hallway to move equipment from the band room to the exit nearest to the science parking lot, where the band rehearses. Now that the cafeteria hallway is blocked by an emergency door that restricts access, he must use the doors by the cafeteria to exit and move equipment all the way to the science lot.
"[The changes] are not annoying enough to dwell on, … but when you need to get something specific done and there's something in the way, it's annoying," Williams said. 
Senior Issac Klein said he thinks the recent security updates are not at all intrusive. Klein attended a Board of Education meeting last spring with a few classmates and voiced his concerns on school safety.
"My opinion on school safety has changed," said Klein. "Initially, last year, I was very skeptical and I didn't think [Glenbrook North] cared about [students' opinions]. I didn't think they would do anything, but I can see that they've taken more than enough steps to make me feel safe, even overly safe."
Eike said although daily routines at school may have to be altered by students and staff, he does not think increased security will be an inconvenience. He hopes that as the district moves forward with security changes, students feel more safe and secure.
"In my opinion, this has always been a safe and secure environment because [our students and staff] have always done a nice job with letting the administration know if they feel uncomfortable [or] unsafe," said Eike. "A big saying now as we move forward is, 'If you see something, say something,' and that's what we expect out of all the people coming [onto] the GBN campus."