Plastic straw usage damages environment, marine life
Sara Williams and Sam Morgan
September 28, 2018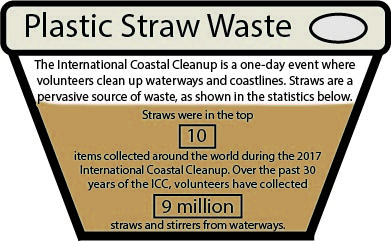 Fish swim around with stomachs nearly bursting with plastic that tricks them into thinking they are full, when in reality, they are on the brink of starvation. Damage and intense irritation affect animals' delicate digestive systems. Harmful toxins seep into marine environments and pollute bodies of water ranging from the Great Lakes to vast oceans.
The cause of this damage? Plastic straws.
Straws are gaining national attention because they cannot be recycled easily and their small size makes it difficult for processing machines to correctly sort them. As a result of incorrect disposal, straws often become litter in nature, where they can harm marine wildlife such as fish and their habitats. Additionally, they increase the risk of certain pollutants, such as polychlorinated biphenyls, also known as PCBs, being released into the environment. Local environmental organizations like Go Green Northbrook and Environmental Awareness Club are also working to educate people about the environmental impacts of straws by having club members distribute small paper cards describing ways in which straws pollute the environment. The club is looking into potentially selling reusable, stainless steel straws later in the school year.
Sarah Lowe, Great Lakes regional coordinator for the National Oceanic and Atmospheric Administration, said in an email interview that straws are routinely in the top 10 items collected globally through the International Coastal Cleanup, also known as the ICC.
In 2017, the ICC collected 409,087 straws in only one day, which is about 147 times the height of the One World Trade Center in New York City when stacked vertically.
According to Lowe, straws contribute to environmental concerns because if they are not properly recycled, PCBs could potentially be released into the soil or surrounding area. She said there is uncertainty surrounding whether straws or other plastic debris release the PCBs. It is also uncertain whether animals can be harmed by PCBs if they indirectly eat the soil.
Dylan Chern, Environmental Awareness Club member, said he went on a service trip last summer to Hawaii where  he recalls seeing images of Hawaiian sea turtles that had been injured by plastic straws and a sea turtle that was missing a flipper because it had been entangled in plastic mesh.
Kevin Shu, co-president of Environmental Awareness Club, said one way the club is tackling the straw problem is by having some club members work with Go Green Northbrook, passing out small, informational cards about straws and exploring the possibility of selling reusable straws later in the school year.
Lowe said all businesses could decrease their straw use by providing environmentally sustainable alternatives, such as glass, paper or metal straws.
Chern said he and his family have incorporated plastic straw alternatives into their daily lives and wishes less people in Northbrook would use plastic straws.
"There are really good alternatives like [metal] straws that are dishwasher safe instead of continuing to buy plastic straws because they take so long to decompose," Chern said. 
According to Lowe, everyone can be a part of the solution by spreading awareness of their environmental impacts and encouraging others to limit their straw consumption.
"We must reduce and prevent debris from entering the ocean or we will forever be cleaning up," Lowe said.