Schools follow test-optional trend
Elaine Kim, News Editor
September 28, 2018
T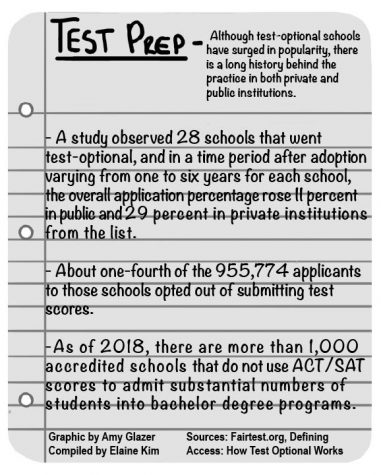 he last thing senior Isabel Reynes thought colleges would view her as was something other than just a number. After doing test prep junior year, she had always assumed including her score in her application would have been the only option.
"I actually didn't know about [test-optional schools] until I had taken the ACT twice, and I was doing college visits, and [an admissions officer] told me they were ACT optional," said Reynes. "It was a nice surprise, and it made me feel more confident in the quality of the school and what it values."
After talking to her aunt who is a college counselor, Reynes decided she would not send in her score and would rather have the school focus on her transcript and GPA.
The test-optional policy means that students have the choice to send in their ACT or SAT score for consideration in their application to college. Some test-optional schools may still require scores for certain majors and scholarships or will determine test-optional eligibility through GPA, which classifies them as test-flexible instead. The overall idea is not new, but in recent years, the number of colleges going test-optional has increased significantly.
According to David Boyle, coordinator of college counseling, when a student chooses not to submit test scores to a test-optional school, the school usually asks for additional essays or short answers.
"I could say the top reason is that they've done some research on their students and realized they don't need the ACT or SAT score to predict the student's probable success on their campus," said Boyle. "They can do that just as, or some would argue more, efficiently by looking at all the other factors in the application."
In a phone interview, Veronica McLaughlin, regional assistant director in the office of admissions for Drake University, a private liberal arts school, said the school looks at students more holistically through curriculum, rigor of coursework, leadership, service and extracurriculars. Compared to larger schools, smaller schools can more easily implement the test-optional policy.
"When you have over thirty-thousand applications, … it's harder to have the time and resources to get to know all the students' attributes other than the numbers," McLaughlin said.
Junior Campbell Sharpe said she believes standardized tests are not an accurate representation of the full capabilities of a person. Because of the competitive nature of Northbrook, there is an expectation to complete test prep and receive a high score.
"I'm going to start [test prep] in a few months," said Sharpe. "A lot of my friends have already began test prep … it makes me feel like I'm not doing enough."
According to Boyle, with a rise in test-optional schools, there is a strong possibility for less stress and anxiety surrounding the tests and test scores.
McLaughlin said test-optional schools will help students who struggle with test-taking, but test scores are still an important part of how most colleges compare students and develop rankings. Students should not be disregarding the tests altogether because a majority of colleges are still not test-optional, and the right school for a student might end up requiring a score.
According to Reynes, an increase in test-optional schools would be beneficial because it de-emphasizes students being defined by their test scores.
"I would love to be at an institution where they don't value you taking one test, but instead value your essays or recommendations," said Reynes. "That's an establishment I would want to be a part of."