More student parking passes sold than spots available
Ellie Prober, Executive Editor-at-Large
November 9, 2018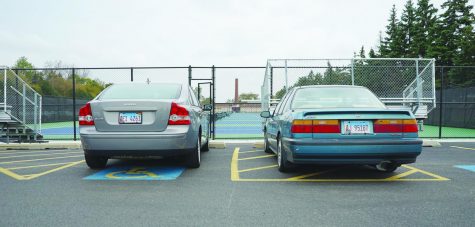 With incredible frustration, senior Elise Katsnelson abandoned her fruitless search for a spot in the athletic parking lot before school, turning instead to the other side of the building. She tried the science and tennis court parking lots, but the only remaining spaces were far from the school in the cages, causing her to be late for class.
"[Parking] causes me to come late to class at some points, simply because there weren't enough parking spots," said Katsnelson. "Even though I came to school early enough to get to class on time, … issues with parking caused me to come later."
In determining how many parking passes to sell, Dean of Students William Eike said the Deans' Office uses a formula that accounts for the number of spaces available, 625, and the expected daily percentage of absent students, between zero and five percent. Therefore, an extra 25 parking passes were sold beyond the amount of spaces available to students, so 650 passes were sold this school year.
"The amount of spaces sold hasn't increased [from last year to this year]," said Eike. "What happens is … if we have a good year of [daily] attendance, … our lot is going to be full to capacity."
Senior Jackson Mayer said he changed his schedule this year to account for trouble with parking. He wakes up earlier and gets less sleep in order to get a space close to the school building.
According to Eike, to account for students' difficulty finding parking this year, the school opened new spaces in the cage lot that were previously unavailable to students. Since those were made available, he has not heard of trouble with students finding available parking.
"To start off this year, our attendance was really good, so we were kind of busting at the seams and we had to create some extra parking in the stadium parking area, where we allow people to park in the handicap areas," Eike said.
Mayer said he was asked to move his car from where it was parked in the gravel area of the cages after arriving late to school one day in a car without a parking pass. He thought he was allowed to park on the gravel, but was told to use the striped or handicapped spaces there instead. He wondered why those spaces would be the preferred spots for students, as those spots are typically considered off-limits.
Eike said groups visiting Glenbrook North for presentations or events sometimes use spaces outside of designated visitor parking, changing the amount of spaces available to students and teachers for the day.
"If we have things going on in the building, like major presentations, large groups coming in, some of those people park outside of the visitor's area, which could possibly be in the faculty lot," said Eike. "[In that case], faculty will park … amongst the students, or students will park … amongst the faculty."
According to Eike, the students who say that they cannot find a parking spot are usually just unable to find a spot that is convenient for them.
"I don't think we are at over capacity," said Eike. "A lot of students will come in and say 'I can't find a spot,' when in all actuality, the reference is, 'I can't find a convenient spot.' Because when we do check, we'll find some open spots that are way out by the tennis courts or in the stadium lot."