Students display work at Chicago gallery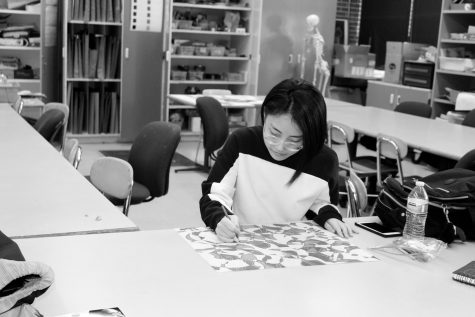 Glenbrook North art students who have been selected for the Illinois High School Art Exhibition, also known as the IHSAE, are set to display artwork at the Zhou B Art Center in Chicago on Feb. 24. The gallery is free and open to the public for viewing.
According to art teacher Lee Block, the gallery's two exhibitions include the General Exhibition and the Senior Scholarship Exhibition. Judges from outside of GBN have determined the five GBN representatives for the General Exhibition. The artwork selected for the General Exhibition has already been decided. Seniors have already submitted their portfolios online for the Senior Scholarship Exhibition, and those who win a scholarship will have their art displayed in the gallery. Art students have an opportunity to earn up to $700,000 in scholarships, and participating colleges decide the winners of scholarships.
According to the IHSAE website, in 2018, it facilitated over $43 million in tuition scholarship offers to 312 seniors. College representatives at the gallery are also available to talk to all students, including those there for viewing only.
"[The gallery is] a great way for advanced level art students to get used to competition," said Block. "[It] reaffirms that they are credible artists that have a lot to show and have a great art spirit."
Senior Lydia Ahn, who submitted work for this exhibition,  said she participates in competitions mainly because of potential scholarships but also because she enjoys having the opportunity to draw inspiration from other artists.