Marching band invited to New Year's parade
Karina Belotserkovskiy, News Editor
May 23, 2019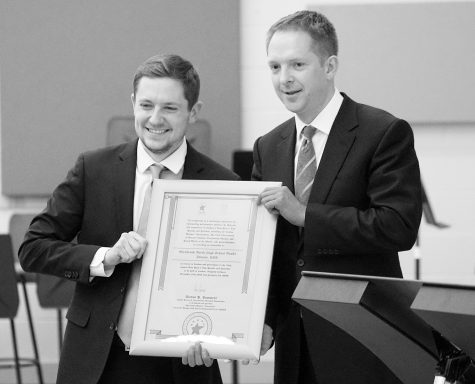 Receiving a ceremonial umbrella from London officials in front of his bandmates was not something sophomore David Schaeffer was expecting, but he took the honor in stride.
"It's in my backpack right now," said Schaeffer. "I've brought it with me to tennis meets, and I keep it with me at home. I can't let it rain when we perform."
The parade's ceremonial umbrella was brought out at the presentation of the Glenbrook North band's invitation to play in the London New Year's Day Parade 2020. Schaeffer was chosen to safeguard the umbrella as an honor due to his involvement in the GBN band program. The superstition surrounding the umbrella states that if the performer who is given the umbrella to guard loses it, there will be rain on the day of the parade.
Schaeffer is one of the members of the GBN band planning to travel to London next year from Dec. 27, 2019 to Jan. 9, 2020 to play in the parade. According to Steve Summers, senior patron of London's New Year's Day Parade, the parade is twice the size of the Macy's Thanksgiving Day Parade. Twenty countries will participate with around 8,400 to 8,600 parade participants, and there will be a large street audience as well, which numbered around 750,000 last year. In addition to playing in the parade, the band is expected to perform in concert halls as part of the London Gala Concert Series, tour London, Oxford and Windsor and take a cruise on the River Thames.
Along with the umbrella, there were many other gifts presented at the event, including cufflinks for superintendent Mike Riggle, a commemorative cup for band director Daniel Briggs and pins for the student leaders of the band. Summers said these gifts were given to show the parade officials' enthusiasm for an American band playing overseas, to thank the band when giving the formal invitation.
According to Briggs, the current organizers became aware of the GBN band after its previous performance at the parade in 2010. In addition, the band reached out to a company called Youth Music and submitted an application to the organizers of the London New Year's Day Parade 2020. The application provided details about the band's credentials and musical numbers from the most recent years. After getting the trip approved by the organization, the Board of Education ultimately approved the trip last December.
"The nice thing about this trip is that we get to take the learning we do in the classroom and apply it to outside the classroom walls," said Briggs. "The global stage that this parade is on puts us in a very special place, which presents more opportunity than local performances."
Schaeffer said he is most excited to see the culture of London and the ways in which that this trip can improve the band program.
"I think it's going to be a special trip because of the wide audience," said Schaeffer. "We're going to be able to perform for hundreds of thousands of people on the street, and millions around the world on [livestream]. That's incredibly unique and a once in a lifetime kind of thing. We get to share our music with all those people."