Study investigates school security
Elaine Kim, News Editor
May 23, 2019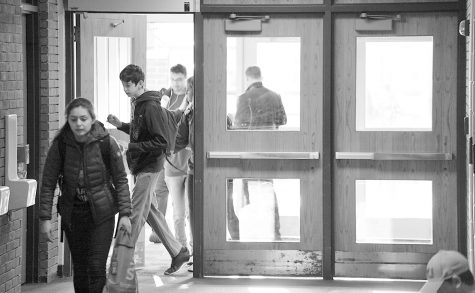 A knee-jerk reaction was what Jagdish Khubchandani, associate professor of health science at Ball State University, saw happening across schools in America in response to shootings covered by the media.
"These schools hear about gun violence and want to take action in some way, which is a positive and productive thing, but oftentimes, their attention can be on the wrong things," said Khubchandani in a phone interview. "They hastily enforce all these security measures when that's not going to deter a shooter."
Khubchandani and James H. Price, professor in the Department of Public Health at the University of Toledo, recently published a study called "School Firearm Violence Prevention Practices and Policies: Functional or Folly?" on April 15, 2019 in the Journal of Violence and Gender.
The professors reviewed reports dating from 2000 to 2018 from schools regarding safety measures and their effectiveness. The study concluded that there was not enough data to claim that schools with security implementations such as monitored doors or security cameras are safer from gun violence.
According to Joel Reyes, District #225 safety and security manager, the study seems to focus more on issues of gun control, which do not hold a strong connection to the district other than how they work to educate students and parents on safety. In regards to security, he believes the district takes a holistic approach.
"Security needs to be combined with safety, and you can't isolate security to one thing because it has to be broad," said Reyes. "The individual, the facility, how information comes in and how it's shared is all part of it."
Dean of Students William Eike said while it is important to be exposed to research like the study, Glenbrook North will not remove current security measures within the school based on the study's findings, as student safety is a priority.
"Whether it be through research or attending workshops, … we can help provide a better and more secure environment for students, parents and staff," said Eike. "Through research, workshops and other state mandates, we get information and try to put it into policy rules that would be conducive for our building and learning environment."
According to Khubchandani, schools should focus more attention and resources on the state of their communities and the mental health of the students.
"I think it's far more beneficial for schools to be taking steps to deter an issue before it can even occur rather than arming for the disaster to happen, and that starts with focusing on the community," Khubchandani said.
Reyes said resources should not be allocated towards a single area to create a safer environment because security should be viewed as a culture. He believes the triangle model of opportunity, desire motivation and ability encompass how to handle security.
"Desire and motivation is wellness, which is what drives you inside and … opportunity is the locked door, so making sure there are limited points of access and obviously ability is the one that  can be difficult to prevent because someone could have the ability both mentally and physically to do something,"  said Reyes. "How can we look at that triangle, how can we look at information and communication and how can we look at situational awareness to improve things?"
According to Khubchandani, regardless of if schools agree with the study's findings and follow its suggested alternatives, he hopes it will provide a different perspective for students and adults.
"This study was not only meant to present its findings, but to add another layer of depth to the discussion on preventing gun violence, which will hopefully help in leading to a definitive solution for our country," Khubchandani said.