Black Student Union highlights black experiences, culture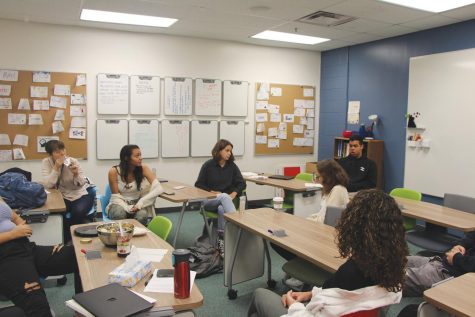 Glenbrook North's Black Student Union, also known as the BSU, is a new club that was started by senior Lauren McGinnis and junior Sofia Thompson. The BSU is both a cultural club and a safe space for black students at GBN.
According to Thompson, the BSU is a place where students of all different backgrounds can gather to discuss and educate themselves on issues the black community faces, both at GBN and around the nation.
"I thought that [the BSU] was something GBN needed," said Thompson. "It provides a space where black students can be vocal about [the] issues they face."
McGinnis said she tries to make meetings fun with discussions and food. She wants to include cultural activities such as trying soul food, a black ethnic food that originates from the south. Outside of club meetings, McGinnis said she wants to have movie nights and field trips to get people more involved.
Social studies teacher Sarah Ilie, who is a sponsor of the BSU, said the club plans on including discussions about different  racial or cultural experiences.
"Whether [the experiences are] positive or negative or neutral, it's an opportunity for us to share stories, which is a big part of cultural diversity," Ilie said.
According to McGinnis, a concern when creating the club was the level of student interest.
"The Black Student Union is not just for black students, just like [the Gender-Sexuality Alliance] isn't just for LGBTQ students," said McGinnis. "We have allies. White students or students of any color are welcome to come to the club."
McGinnis said she is hopeful that more people will join the BSU once fall sports are over.
Michael Tarjan, assistant principal of Student Activities, said he thinks the BSU can be educational for the community at large.
"I'm hopeful that [the BSU is] able to help organize different events throughout the year that get the word out about their culture and their experiences," Tarjan said.
The BSU meets at 7:15 a.m. in Room A220 on the second Tuesday of each month.
Thompson said if students go their entire lives without being told that what they say is intolerant, then others will think that intolerance is acceptable.
"It's just an endless cycle of ignorance and that's what I want to try and stop," said Thompson. "I want to educate kids because some … have no idea what the impact of their words carry."