Placement of reserved snow days changed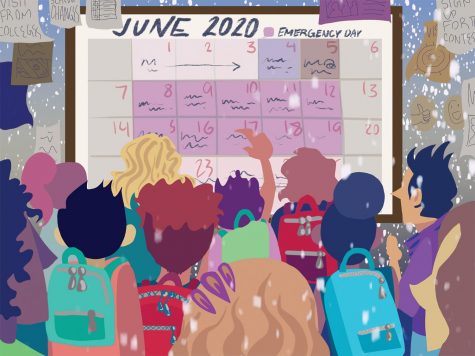 In recent years, Glenbrook High School District #225 has placed reserved emergency days during the school year and after the proposed date of the last day of school. However, for the 2019-2020 school year, all reserved emergency days are placed after the proposed last day of school.
Dr. Rosanne Williamson, assistant superintendant for educational services, said in a phone interview that there have not always been reserved emergency days placed before the last day of school.
"When I first started in the district in 2003, we didn't build any emergency days into the school year," said Williamson. "They were all at the end of the year, … and then [the district] got a little more creative."
According to Williamson, the reasons for school to be canceled can be excessive snow, extreme coldness and power outages. When a day of school is called off, the state of Illinois considers it an emergency day. However, when informing students and parents about a day of school being canceled, the school would not use that terminology. Williamson said the decision to move the designated emergency days to the end of the 2019-2020 school year calendar is a result of the way the holidays fall this school year.
According to Williamson, some of the holidays GBN is usually off for are Columbus Day, Martin Luther King Jr. Day, Rosh Hashanah and Yom Kippur. The district must consider when these holidays fall when creating the school year calendar in order to balance the number of days students are in school each semester.
Williamson said winter break is  also an important aspect to consider when creating the school year calendar.
"We always want those two weeks to include Christmas [Day] and New Year's [Day] and we have to work backwards from there," Williamson said.
According to Williamson, for this year, if the district were to place reserved emergency days in the calendar before the proposed last day of school, students and teachers would have to come back for their last day on a Monday.
"Whether the end of the school year is in June, May or July, we just don't like to have people coming back for one last final day on a Monday," Williamson said.
According to Williamson, a disadvantage to the school calendar this year is that if there are many occurrences of students being unable to receive classroom instruction, the school year could run later than planned.
  "If we get into situations where we are really pushing up against summer school starting … then we would need to make other decisions that wouldn't be our first [choice]," said Williamson. "Last year we had students come in for a late arrival on what was going to be our teacher institute day in March, like Pulaski Day, so we used that as a make-up day since we were getting so far behind."
Junior Maleeha Zafar said the thought of the school year being pushed back is frustrating because she finds herself losing focus near the start of June. She said she feels students will be less attentive if they have to make up school at the end of the year because of their excitement for summer.
In the case of school falling significantly behind due to a large number of school days being cancelled, Williamson said she has not heard any definitive information regarding the effect it would have on senior graduation.
Williamson said a majority of students need to be in attendance for a day of school to count toward the 178 days in the school calendar. Therefore, even if there are make-up days after graduation, that proposed emergency day would still count toward the total 178 days because roughly only a quarter of students, the graduating class, would be missing.
Dr. Ed Solis, associate principal for curriculum and instruction, said taking off school for too many emergency days may impact the teaching of course material in AP classes.
"When it comes to certain classes, like an AP class, where they're under a timeline to complete the content … and there are emergency days …, I think that's where there might be an effect on the curriculum or planning," Solis said.
Social studies teacher Robert Gallivan, who teaches Advanced Placement United States History, said he is unwilling to budge on class review days for the AP exam.
"If we did have snow days, we'd have to forge on and consolidate [lessons]," Gallivan said.
Williamson said the district always hopes to include reserved emergency days before the proposed last day of school.
"Our intention going forward is to always, if we can, put some reserved emergency days into the calendar," Williamson said.