Local restaurants persevere amid COVID-19 uncertainty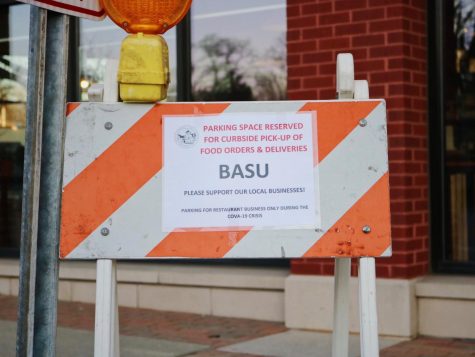 After Gov. J.B. Pritzker issued a mandate on March 15 requiring all Illinois restaurants to close their doors to dine-in customers, Constantine Kyriazopoulos, co-owner of Landmark Inn, was shocked. 
"[I felt] more anxiety than I've ever dealt with in my life, and I had a daughter two years ago," said Kyriazopoulos in a phone interview. "This was more anxiety than that."
As the number of COVID-19 cases in Illinois continues to grow, restaurants across the North Shore have been forced to make changes to the way they do business. 
For co-owner of Basu, Tran Dao, this has meant letting all staff go and running the business full-time with one of her older sisters. Basu, a coffee bar and Vietnamese eatery, opened shortly before Pritzker issued the mandate.
"Before the mandate, we tried to staff some people, but now afterwards, we've already had to let people go before we even got them to be full time," said Dao in a phone interview. "So without any help, now it's just me and my sister." 
In the absence of any other staff members, Dao and her sister have had to work extensive hours in order to obtain the revenue needed to keep Basu open.
"Certain days are 18-hour days for us, so, mentally and physically it's been quite exhausting," Dao said.
Nick Drivas, owner of Grill House, said in a phone interview that trying not to overstaff has been important in order to avoid getting overwhelmed with payroll. Drivas said they are continuing to figure out how to staff as the volume of business changes day-to-day.
According to Kyriazopoulos, his and his co-owner's biggest concern has been taking care of their employees at the Landmark Inn. 
"My partner's my sister," said Kyriazopoulos. "We kind of run this place like a family, … so our immediate reaction was, 'how are we going to take care of our staff?'" 
According to Dao, since Basu is in its earliest stages, it must rely on first impressions of its food in order to build a customer base.
"A lot of our customers are still new, so that first time experience, if it's not a good one, there's a good chance that [they] won't come back," said Dao. "And we do see a big drop in sales because of that. I think a lot of people did enjoy having [their food in the restaurant] more."
Dao said she estimates that Basu has suffered a 60-70 percent loss in revenue during this time.
Pete Weiss, owner of Little Louie's, said in a phone interview that his restaurant's revenue has been impacted drastically as they can no longer get business from their food truck, catering, school lunches and camp lunches.
One way people can help is by tipping employees who are working, such as those bringing food to your car, Weiss said.
According to Kyriazopoulos, the hardest part of not being able to conduct business as usual is not being able to interact with customers. 
"I love what I do because I see new people every day," said Kyriazopoulos. "It's always a conversation, it's always a story. I [kind of] miss that part."
According to Drivas, small businesses thrive off of the community and are able to give back when they are doing well. One thing customers can do to support Grill House is to purchase gift cards for future use.
"If the community is able to get behind us now and help us get through this then we'll be able to … come out the other side a lot stronger and continue our efforts in supporting the community," Drivas said. 
Dao said she thinks everyone in the community has been very supportive of Basu, and that their encouragement has kept her and her sister going through these tough times. 
"Small businesses, we don't have as much cushion when things like this happen," said Dao. "I used to work for a big company too, and you have ways to work around hardships like this, but for small businesses, it might not last. So I think it's great to support the local businesses, because before you know it, they could be gone."