Inclusive Curriculum Law requires LGBT education in classes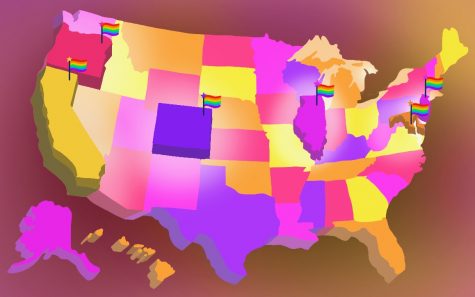 Throughout her United States History class, senior Grace Chiappetti felt there was a lack of material and discussion regarding LGBT history. She feels if LGBT content was included more in the curriculum, it would be easier for students to discuss and understand it.
"Later down the road I think [students] having the knowledge [of LGBT history] in the back of their heads … would make them more accepting," Chiappetti said. 
On Aug. 9, 2019, Gov. J.B. Pritzker signed the Inclusive Curriculum Bill, which will go into effect on July 1, 2020. The law requires Illinois public school curriculums to be more inclusive of LGBT history and minority groups.
Anna Moeller, Chief House Sponsor of the bill and state representative of the 43rd District, said in a phone interview that there are two components to the law. The first component requires that if a school chooses to buy new textbooks with state money, the textbooks must be unbiased and nondiscriminatory against individuals who are protected under the Illinois Human Rights Act. The second component mandates that all Illinois public school districts K-12 must include information specifically about LGBT individuals and the LGBT community in their history curriculums. The law does not specify when in the school year or what specific LGBT content should be taught. 
According to Ed Solis, associate principal for curriculum and instruction, "[The district is] currently in the process of examining what our current content and practices have been regarding the law and what adjustments or what type of other inclusive parts [we can use] going forward."
Courses in English and history already examine LGBT issues, but there is more content in regard to these issues that the district could consider implementing, which could apply to classes in many of the departments, Solis said. 
According to Moeller, groups such as the Illinois State Board of Education, Equality Illinois and the Legacy Project, along with teacher organizations, are currently working collectively to put together a curriculum and materials to help teach LGBT history in schools.
According to social studies teacher Jamie Ellinger-Macon, everybody benefits when curriculums and textbooks are more inclusive and representative of "everybody's experience in history."
"I think that when we ignore voices and ignore perspectives … not only do students perhaps not see themselves reflected in the curriculum, which can hinder their ability to understand and relate to what they're learning, but it also is a disservice to everybody in the room who is losing insight into that particular voice or identity or struggle," Ellinger-Macon said. 
State Rep. Daniel Didech, one of the representatives who voted in favor of the bill, said in a phone interview that he never learned about LGBT contributions when he was in school.
"It would have never occurred to me that so many prominent people who have contributed a lot to our country are LGBT people, and that's something that you don't even think about unless somebody tells you to think about it," Didech said.
According to Moeller, education is fundamental in changing people's attitudes and opening their eyes to a larger viewpoint, and the Inclusive Curriculum Law is an important step in advancing LGBT people's human rights. 
"To deny someone's history is to deny their humanity, and we have denied LGBT people their history because we deny their humanity," Moeller said.
Chiappetti said it is important to address LGBT contributions when learning about history in order to normalize the subject.
"Just like the way that women had to fight for their rights, the way that African Americans had to fight for their rights, there's a really long history of LGBT people having to fight for their human rights too," said Chiappetti. "Just like being African American is a part of a person's history, just like being a woman is a part of a person's history, being gay can be a part of a person's history too. I think it's important to learn about it just like anything else that happened in history."