Math team integrates into new division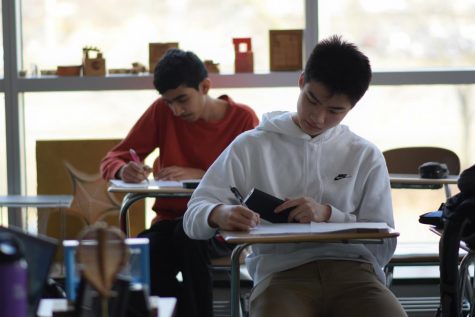 At the math team regional competition, junior Brendan Biernacki scored perfectly in all three of his events. By earning these scores, Biernacki came a step closer to becoming a three-time individual state champion.
"During the contest, I was feeling like I could have probably made a mistake, but after seeing the answers I was just … relieved that, like, all of my work that I've done ended up paying off," Biernacki said.
At the Illinois Council of Teachers of Mathematics, also known as ICTM High School Regional competition, Glenbrook North came in second place to Stevenson and qualified to bring a full team, composed of six to eight students per grade level, to the ICTM State Math Finals. According to the University of Illinois's Department of Mathematics website, due to COVID-19, the competition originally scheduled for May 2 was canceled. 
The Math Team moved to Division 4AA for the 2020 ICTM Math Contests because GBN enrollment surpassed 2,000 students, which is the cutoff separating Division 3AA from Division 4AA.
At the regional competition, the Math Team placed first in five out of the 10 events.
"We've won state each of the last three years, but it was in [Division 3AA], and so this year we've moved up and now we're with schools that are like Stevenson that are twice our size," said Steve Goodman, head coach of the Math Team. "To come as close as we did to [Stevenson's] score [at regionals] … is pretty impressive."
According to the ICTM overall Division 4AA results, GBN came in second to Stevenson 910-934. GBN also tied for the fourth-highest overall regionals score in the division.
According to junior Angela Zhao, who placed first in three of her individual events, the team made sure to keep calm and still feel confident in their abilities despite a more competitive atmosphere during the regional competition.  
At the 2019 ICTM State Finals, GBN won Division 3AA for the third straight year, beating Vernon Hills 956-781. GBN's score was the fifth-highest among the Division 4AA teams and was only 63 points away from the division champions. Both Division 3AA and Division 4AA use the same math tests for the ICTM competition.
Biernacki said it is more exciting to compete in Division 4AA because the outcome is more uncertain than competing in Division 3AA.
"Last year … we wanted to see not if we could win but by how much we could win," Biernacki said. 
Zhao said in a phone interview, "A lot of us, especially upperclassmen, have been working hard for a long time … where we're better than we used to be but now there's not really a chance to showcase that."
Goodman said in a phone interview that despite the season ending before the ICTM State Finals, the team is excited to compete next year.
"You just have to sort of roll with it and say 'we're still proud of our own accomplishments, and what we've learned, and what we've done, whether we've had the opportunity to compete in state or not,'" said Goodman. "[However,] I feel really badly for the seniors because they won't have this opportunity to put a cap on the end of their high school career."
Biernacki said in a phone interview that he hopes to do well in next year's state competition.
"I just wanna … go out [with] a bang," Biernacki said.