Planned Parenthood sees 354 percent increase in out-of-state abortion patients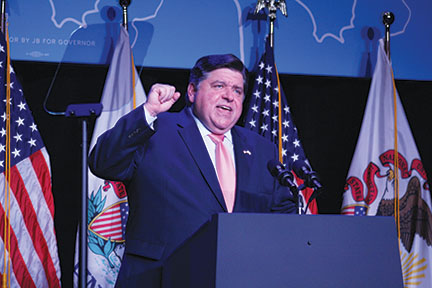 After traveling to an abortion clinic in Indiana and receiving an ultrasound, a 16-year-old girl was turned away for being too far along in her pregnancy to get an abortion. She then traveled to Illinois to have the procedure done.
This is one of the many stories an abortion patient navigation program manager for Planned Parenthood of Illinois shared while reflecting on the barriers some girls face trying to get an abortion. The program manager's first name is Mara, and she asked that she only be identified by her first name due to concerns of repercussions and violence.   
"People are in heartbreaking situations, especially when their state doesn't allow for care, and there's a lot of states that have bans in place," Mara said.
The U.S. Supreme Court overturned Roe v. Wade with the Dobbs v. Jackson Women's Health Organization ruling last June. The right to reproductive health care is no longer federally protected, and individual states can now decide if abortion should be legal and accessible. 
"We've known that [the Dobbs decision] was coming because all signs were pointing to [it], and yet, it felt so devastating," said Mara. "Even as we maintain access and continue to provide care in Illinois, knowing the barriers that our patients are having to face just to get to us is overwhelmingly sad and hard, and I still cry over it regularly." 
The number of out-of-state patients Planned Parenthood of Illinois sees has increased by 354 percent since the Dobbs decision, said Julie Uhal, S.A.F.E. abortion expansion program manager for Planned Parenthood of Illinois, in an email correspondence. 
According to Rachel Johnson, staff attorney with the Women and Reproductive Rights Project at the ACLU of Illinois, health care providers have been "stretched thin" due to the influx of out-of-state abortion patients in Illinois. 
"There's been increased wait time for people who are seeking abortion care, an increase in the need for resources and support as well as an understanding of what the legal risks might be to providing abortion care to out-of-state patients," Johnson said. 
As states that border Illinois have restricted or banned abortion care, Illinois has been considered a haven for out-of-state patients. 
In January, Gov. J.B. Pritzker signed the Patient and Provider Protection Act into law. In a press release from the Illinois government, the reproductive rights and gender-affirming care bill in part states that it "protects health care providers and their patients from legal attacks by neighboring states and expands health care access and options across the state." 
The law provides protection not only for patients who return to their home states, but also for health care providers from facing consequences when performing abortion care and gender-affirming health care, said Rianne Hawkins, director of advocacy in campaigns at Planned Parenthood Illinois Action.   
According to Johnson, abortion care is fundamental health care.
"People's lives are at stake," said Johnson. "People are either going to have to suffer the consequences … or gather the resources, the money, the time, the energy to leave the state and to enter another state like Illinois to get the care that they need."