Putting a price on participation
Jessica Katz, Opinions Editor
November 3, 2017
Hang on for a minute...we're trying to find some more stories you might like.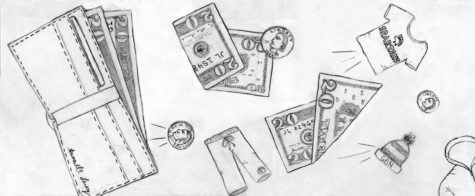 I'm drowning in a tide of green and gold. No, this isn't a dream — it's my closet. From class board sweatshirts to choir T-shirts, I have enough Glenbrook North apparel to last me a lifetime. When I first started high school, I had no idea how massive my collection would become.
At the beginning of freshman year, I was greeted by a plethora of club representatives, each one begging me to join. After receiving repetitive lectures on how signing up for a variety of activities in high school would ultimately "make" my high school experience, I was ecstatic to explore my interests and get involved.
So, I submerged myself in the culture of GBN involvement. I signed up for clubs, attended many first meetings and eventually decided what activities I wanted to be a part of.
Club sponsors and board members spoke eagerly of their club's virtues and benefits for the bulk of the first meetings. Minute after minute, excitement bubbled up inside me: I felt as if I was diving into an ocean of high school experiences.
That enthusiasm dried up as becoming a member of each group came with a price tag. For each club I joined, I was required to purchase a piece of club-specific GBN apparel.
This purchase didn't matter much at first. A T-shirt wasn't too expensive, so buying a couple wouldn't hurt. Or at least that's what I thought, until my mountain of GBN apparel made my collection of bar mitzvah giveaways from my junior high years look like an anthill.
Buying a club shirt is a great way to show support, but being forced to buy club apparel year after year is excessive. Although I'm overly prepared for every Green and Gold Friday, the amount of GBN apparel I buy each year isn't necessary.
What if I don't need another T-shirt? I could be the most involved member. I could participate in every event the group hosts. I could go out of my way to show my interest in the group. But it feels like if I don't buy a shirt every year, I will be denied membership.
Buying club merchandise shouldn't be the deciding factor in whether or not I'm allowed to enter a group. Despite most GBN students having the funds to support their new interests in clubs, there's no need to take advantage of that privilege. There are more important qualifications to consider: passion, participation and positivity.
I have now acquired 35 items of GBN apparel. And with my growing interest in new clubs and activities, I fear that the green in gold in my closet will soon replace the green and gold in my wallet.