Deviating from the statistics
Grace Chatas, Editor-in-Chief
May 23, 2019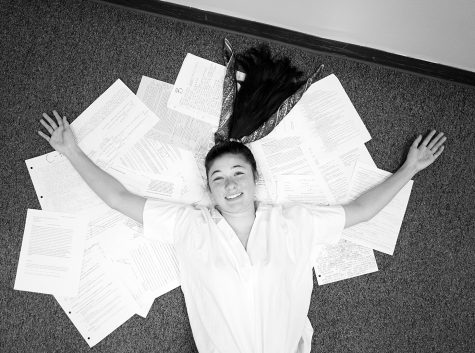 Three ACTs. Eight AP classes. Ten extracurricular activities. Thirty-two college essays. One hundred thirteen varsity tennis matches.
On paper, these are the numbers that define my high school experience.
Upon entering Glenbrook North, it was my plan to strive for perfection throughout all four years of high school. I saw high school as a game, one I needed to win to prove my worth. If I were to excel at everything, I would have an advantage for my future: admission to the best universities, the most impressive career options upon earning my degree and a sizable professional salary. From classes to clubs, every action was calculated to support a larger strategy to achieve as much as possible by the time I walked across the stage at graduation. I wanted to follow in my older sister's footsteps, taking the most rigorous courses, competing on the top sports teams, logging hundreds of volunteer hours and joining as many clubs as possible. Succeed at everything and follow a carefully crafted plan.
That was, until the end of my freshman year.
When members of Torch gave a presentation during my freshman English class, I was intrigued by their enthusiasm for the activity. Although I wanted to sign up, I thought I needed to stick to my original design as there was no room to add extra classes or commitments. So when the bell rang at the end of the period and my teacher began to hand out applications, I started to pack up and head to lunch.
"Grace, can I see you for a moment?" my teacher asked just as I was swinging open the classroom door. These eight words would change the course of my GBN experience.
My teacher expressed to me that he thought I would benefit from joining Torch. I was hesitant to apply because I had been told that Torch was too much work and required a great time commitment. However after thorough consideration, I made the decision to complete an application.
Torch shattered all of the ideas I had about what my high school experience was supposed to be. I began to attend more school events and became more embedded in the GBN community. In order to write articles, I met with students of all grade levels, faculty members and experts on various subjects to bring multiple perspectives to my work. I was able to explore my passion for writing and share my thoughts with thousands of people.
Expanding my involvement at school and trying new activities have enriched my experience more than I ever thought, and being a member of the Torch staff has made that possible. I have realized that the quantitative aspects of high school aren't the only things that matter. These four years have taught me that success on paper does not dictate who I am or who I want to become.
I spent so much time obsessing about how to be the "perfect person" instead of enjoying my first year of high school. So embrace opportunities when they present themselves. Join the chess team. Audition for the school musical. Heck, start a beekeeping club if you want. After high school, no one will care how high your ACT score was or how many leadership positions you held. What will matter is how you've pursued your passions and made an impact.
Three ACTs. Eight AP classes. Ten extracurricular activities. Thirty-two college essays. One hundred thirteen varsity tennis matches. Unforgettable high school memories? Too many to count.