From basic to bold
Jessica Katz, Executive Copy Editor
May 23, 2019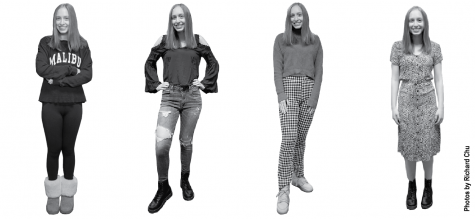 Freshman year:
Sporting Lululemon leggings, UGG boots and a crop top with a trendy brand logo on it, I strolled into high school with what I thought was a clear idea of who I was. Little did I know, I was stuck in a middle school mindset — life revolved around drama and "popularity."
I focused on pleasing other people, forcing myself into uncomfortable situations for the sake of fitting in. And that seems so silly to me now.
My appearance screamed "basic" and my personality grew fake. I made a group of friends and kind of fit in, but I lost confidence in myself by doing so.
Sophomore year:
After a year of pointless bickering and ruthless gossiping, negativity consumed my life. So, I began to test out a healthier lifestyle. 
I found unique pieces to spice up my outfits and experimented with colors I avoided in the past. Ripped jeans replaced my Lululemons, and I started to express my genuine self through clothing.
I tried new things and began to find my passions. I learned I was the slowest sprinter on girls track, but I loved the sport anyways.I discovered my inner journalist as I started writing for Torch. I continued to explore my love for style.
I applaud my sophomore self for abandoning the middle-school box. Exploration is an essential part of high school.
Junior year:
On this emotional rollercoaster, I lost myself. Toxic, snappy and selfish, I isolated myself, slowly backing away from many friendships.
Eventually, I tried to distract myself from each letdown in my life. I spent hours each day exploring new music, and I truly individualized my style. Bright red and yellow tops. Boldly patterned pants. I even bought neon "Cheeto" orange sneakers. 
My passions helped me cope with feelings of loneliness, dullness and confusion. Each day I strutted into school in afunky outfit listening to good tunes, I gained a bit of confidence. And that confidence built up until I had enough strength to feel happy again.
My junior year was tough, but I wouldn't change it for anything, because I left stronger.
Senior year:
Finally, I'm a senior, and I've got my spunk back. I came into my last year at Glenbrook North with a fresh, mature mindset, ready to be real with myself and with others.
Some days I dress up for no reason at all, and some days I wear sweatpants. My style defines me without hiding how I feel on the inside. I want to enjoy the time I have left in high school and not make a big deal out of every struggle I face.
Throughout these past four years, I found my passions and used them to spark personal growth, to become the best, most genuine (and stylish) version of myself. I'm still growing, and I'm ready to evolve my fashion sense as I begin a new period of my life.