Looks like I made it just in time
Isabel Vayser, Opinions Editor
May 23, 2019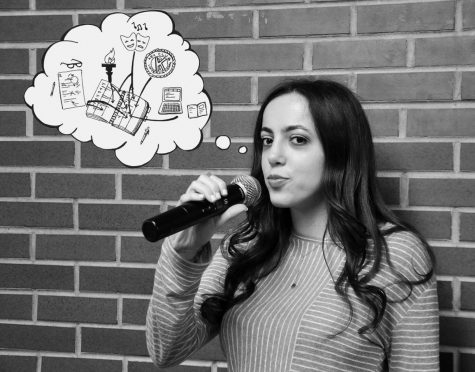 Hours before the 7 p.m. deadline, I'm sitting in front of a blank screen.
Despite my love for words and involvement in various writing-related activities, when I realized the deadline for my last opinion was rapidly approaching, I panicked. I've always been able to come up with ideas for opinions, even at the last minute. But this time was different. I just wasn't sure how to say goodbye.
With every "last" I wrote in my planner throughout senior year — my last homecoming, my last time singing "White Christmas" at the winter concert, my last opinions deadline for Torch — I found myself in escalating levels of disbelief about how close I was to the end of my high school career.
So instead of saying goodbye, I'll tell you why I wish I didn't have to.
Although I did as I was told in eighth grade by getting uber-involved at Glenbrook North, I feel like I've missed a lot. My participation in so many activities ranging from Torch and ARC tutoring to Fermata Nowhere and Key Club left me so over-involved that when I was at a meeting or in class, I was too distracted planning my week to contribute in a meaningful way. Through long days in classes and late nights editing pages and rehearsing for shows, I began to do the things I love somewhat passively.
While I dreaded dreary Mondays and anticipated energetic Fridays, the weeks passed by in between. I should have slowed down and embraced life as it was, even when I was tired and stressed.
Something about senior year's sense of ultimacy has flung me back into the present, illuminating the little moments I soon wouldn't get. High school morphed into my very own John Hughes movie, perfectly orchestrated with every scene, good and bad, entirely necessary.
When I finally tuned in again, I found the most amazing moments in the most ordinary ones. Every night before the variety show, the vocal ensemble warmed up in the choir room. But on closing night, instead of singing scales from our seats, we stood around the piano, belting, dancing and clapping to "Don't Stop Believin'." The room radiated energy and passion — something straight out of an episode of "Glee."
Unlike some of my peers, I haven't been anxiously waiting since my first day of high school to board a plane set for the other side of the country. Now that every Monday is another tick on the fleeting countdown to graduation, I know my mistake was thinking I had an infinite amount of them left. But whether you're ready for high school to be over or not, time is running out. No matter how much I put it off, the deadline to turn in this opinion is just minutes away and the graduation date is set. So instead of dreading something I can't control and stressing about what the future might hold, I'm continuing to be as present as possible. After all, that's just time I could put toward appreciating what I do have.
As difficult as it is to make sure you're really living  in the moment, try to check in with yourself and refocus when you're not entirely conscious. Don't wait until the end of high school to make the most of it. But if you do, just know that you always have the choice to live presently. After all, it's 6:57 p.m. and hey, would you look at that? Somehow I found the words just in time.