Senior surpasses her competition
Brandon Mankoff, Sports Editor
April 21, 2017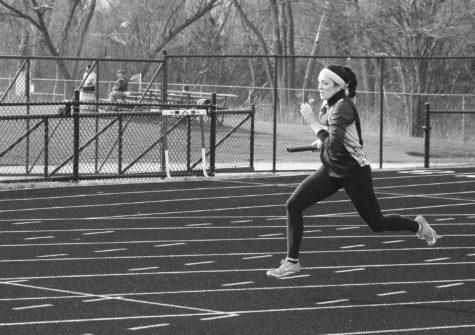 Not only does senior HannahRae Wilson hold two all-time Glenbrook North girls records in track and field, but she has also placed first in every indoor track meet this season in sprints.
Rob Berg, girls track and field assistant coach, said Wilson was born with natural talent and has used it effectively.
"She has two things going for her," said Berg. "One, she has God-given talent. There's just no way around that. She has God-given talent. But she hasn't let that go to waste.
"The second thing she has going for her is that she has a great work ethic. She spends time in the weight room in the off-season and during the season. She is very smart about how she trains and works on technique, things like coming out of the blocks, things that a lot of people will overlook and say, 'Yeah, I have done enough of that.' She'll be one of the people who sticks with it and keeps going at it until she feels like it's perfect."
Wilson, who has been on varsity track and field since she was a freshman, committed to the University of Wisconsin-Madison for track and field. Wilson runs sprints and is on the 4×100-meter team. Last year at state, Wilson came in fifth place in the 100-meter dash with a time of 12.2 seconds and came in sixth place in the 200-meter dash with a time of 24.91 seconds.
According to Justin Cooper, girls track and field head coach, Wilson always listens to the coaches and tries to make the team better, even if she needs to compete in an event that she does not like.
"Sometimes we'll ask her to run a 400, and … she understands why she needs [to run] it," said Cooper. "It still doesn't mean she likes it at all. She's still not a fan necessarily of the 400 but still continues to run and listen to her coaches [on] how to get better."
At the CSL North Indoor Conference meet, Wilson finished first in the 50-meter dash with a time of 6.7 seconds and first in the 200-meter dash with a time of 26.1 seconds.
At the team's first outdoor meet against Deerfield and Northside College Prep on April 12, Wilson got first place in the 100-meter dash with a time of 12.5 seconds and first place in the 200-meter with a time of 26.2.
Senior Katherine Doyle said despite all the hard work Wilson puts into track, she also has an encouraging attitude towards her teammates.
"She definitely has a funny side [to her]," said Doyle. "She is serious when she has to run but she tries to get, like, everyone in a good mood. … She'll be like 'You'll do great.'"
Wilson said she has big goals for the rest of the outdoor track and field season.
"For this year, [I] definitely [hope] to set new personal bests," said Wilson. "Hopefully [I will] get under 24.9 [seconds] in the 200 and break 12 seconds in the 100."
From the first day he saw Wilson run, Cooper said he was impressed and has enjoyed seeing her grow into an elite runner.
"One of the days I was here [coaching] we did a preseason workout, and I had never met her, and I remember [the team] doing an off-season workout with some strides.
"I remember, like, watching and [saying], 'Oh, this girl's pretty fast,'" said Cooper. "'It will be cool to see kind of what happens.' It has been so cool seeing her grow into this all-state athlete last year and then hopefully [this year too]."